African countries have been challenged by a leading climate scientist to diversify their crops in order to mitigate the impact of climate change and ensure food security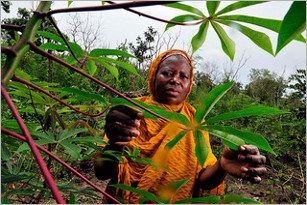 A leading climate scientist has advised African farmers to diversify their crop selection. (Image source: CIAT/Flickr)
Potsdam Institute for Climate Impact Research scientist Christopher Muller said it was important for parts of Africa to end their dependence on one type of crop and advised farmers to consider diversifying to other types of crops as a means of ensuring food security.
"A recent study cited Africa as the worst hit in terms of climate change," Muller emphasised. "I want to point out here that things are likely to get worse, but it is our duty to educate those without the knowledge as a means of mitigating the impact of climate change."
Most countries in the southern African region, including Zambia, lack adequate policy direction to diversify their agriculture base from a mono-dependence on maize, International Institute of Tropical Agriculture (IITA) Southern Africa region director David Chikoye commented.
Chikoye said that some countries, such as Zambia, could not be said to be food secure when they had only attained sufficient production in maize.
"It is dangerous to depend on one crop because if that crop fails, then you are in trouble," Chikoye stressed, highlighting the significant shortage of maize during the droughts of 1991 and 1995.
As part of its strategy to help diversify maize production as well as increase per unit productivity, IITA has been working with the Zambia Agriculture Research Institute to introduce new strains of cassava suitable for the local environment.
Governments need to ensure funding for growing and marketing of cassava to boost output of the root crops and other non-traditional products such as sorghum and millet, Chikoye explained.
"You have to look at another crop, but what is needed is that the same support is given to maize," he pointed out....