Côte d'Ivoire has been announced as the host of this year's African Green Revolution Forum (AGRF) (AGRF.org), hailed as premier continental agriculture gathering, to be held on 4-8 September 2017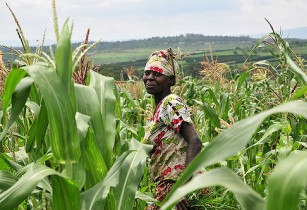 The AGRF aims to advance the policies and secure the investments that will ensure a better life for millions of Africa's farmers and families. (Image source: CIAT/Flickr)
The West African nation, a leading agricultural powerhouse and a hub of expertise in improving smallholder farming, will be the first francophone African country to host the annual Forum. Chosen for its leadership in placing agriculture at the heart of its economic transformation, Côte d'Ivoire is among a few select African countries that have made the biggest investments in agriculture resulting in sizeable increases in both farm productivity and overall economic performance.
Under the leadership of President Alassane Dramane Ouattara, the AGRF 2017 will focus on "Accelerating Africa's path to prosperity: growing economies and jobs through African agriculture."
Mamadou Sangafowa Coulibaly, Minister of Agriculture and Rural Development, Côte d'Ivoire, emphasised his country's commitment to continually improve the agricultural sector which is key to its economic development.
"Five years of significant investments through the National Agricultural Investment Plan have enabled the country to empower farmers and place them at the heart of Côte d'Ivoire's economic transformation. The first phase of the NAIP contributed to a significant boost in our agricultural production, with more than 17 million tons of food crops in 2015 compared to 11,886 million? Tons in 2012. We are delighted to see that our efforts are being recognized internationally. We are confident that Phase 2 of the NIP, based on a more integrated approach that includes water resources management, health, electricity and education, will help to lift farmers out of poverty and further stimulate our economy. Côte d'Ivoire is committed to developing its agricultural economy, this needs to be consolidated."
Agriculture is the backbone of Côte d'Ivoire's economy and its robust growth is driven by sustained investment in agriculture and smallholder farmers. The sector contributes 26 percent of GDP, 40 percent of all export revenue, close 75 percent of non-oil export revenue and employs close to 60 percent of the population. The 2016-2020 National Development Plan (PND) aimed at guiding the country into emerging nation status by 2020, considers agriculture as a key pillar and specifically calls for an increase in agricultural output.