Observers say the 'New Nigerian Farmers' project has been the catalyst in a quiet but steady agrarian revolution in Kwara State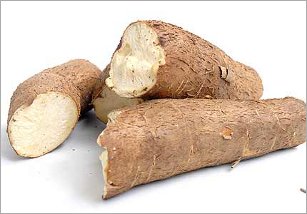 Cassava is grown in just about every Nigerian State and in the biggest producing states this mono-culture crop stretches as far as the eye can see, like wheat in North America which it rivals as a food energy crop and just as versatile in livestock feed, agro-industrial processing and biofuel (bioethanol) production. Nigerian governments at state and federal levels would like a big slice of this world trade in cassava products including starch, chips and pellets for livestock feed, ethanol, glucose syrup and of course flour for bread, cake and biscuit manufacture.
Africa is the biggest producer and user of cassava (Manihot esculenta) the world's fourth ranking energy crop and staple food for around one billion people in 105 different countries. Despite increasing demand and production potential cassava remains an 'orphan crop' in many African countries, cultivated by small subsistence farmers with little or no access to improved varieties fertilizer or other inputs, and cut off from commercial scale marketing and agro-processing industries.
This is increasingly not the case in Nigeria, biggest cassava producer in Africa and number one in the world, where cassava production is currently approaching 50mn metric tonnes per annum and expected to double by 2020. 50mn tonnes is thirty-three per cent more than cassava harvested in Brazil, the native South American home of this root crop, and virtually twice the combined production of Thailand and Indonesia. The difference is Thailand and Indonesia, along with other ASEAN nations like Vietnam, are major cassava exporters, while 90 per cent of Nigeria's annual production is targeted at the country's domestic food market. China is a key importer of cassava even though it produces a sizable tonnage of its own.
Cassava in Nigeria
Cassava was once described as the 'famine reserve crop' because it survives extreme environmental conditions, poor soils and most pests including locusts but is now viewed as a potential 'cash-cow' with a $12bn tag in export revenue per annum for Nigeria.
Nigeria will only realise this aim by increasing the land under production and by pushing yields to the limit through improved varieties, fertilizer and irrigation but most of all through large scale mechanised production from farmer capability and commitment. Zwara State is only a middle ranker in the Nigerian cassava league but appears to have found a novel and highly successful way forward in spearheading production through opening up undeveloped land to new but experienced farmers for whom mechanised farming in Africa has been a way of live for generations. They are white farmers displaced from Zimbabwe the Sub-Saharan African nation that went from 'bread-basket' to 'basket-case' after hounding out most of its most progressive and productive growers of maize, wheat, tobacco, beef and dairy products for purely political aims.
Zwara State the vanguard
Nigeria's preoccupation with petroleum has left huge expanses of under-developed agricultural land with rich soils and a generally good climate and 150mn mouths to feed. But 'black gold' (petroleum oil) is a finite resource unlike 'white gold' (cassava) a starch rich root crop requiring relatively low labour and material inputs. Nigeria is already the world's single biggest producer of cassava and still is the most important food security crop for millions of Nigerians. On the other side of the 'unbalanced sheet' is foreign-sourced flour, starch, glucose and animal feed, all potential products of cassava processing, imported into Nigeria every year to the tune of $700mn.
But a significant shift in thinking has pushed agriculture into the spotlight as future driver of economic growth in Nigeria with Kwara State at the vanguard of new thoughts and action. Kwara State has two million hectares of uncultivated arable land with good soil and a favourable climate and there for the taking by rain-fed crops and livestock production. Kwara's ambitions go way beyond securing enough food for its own population. The state sees itself as trendsetter and model for food exports to the rest of Nigeria and into the international marketplace. Agriculture says its leaders must be seen as a business with more commercial farmers and it was this far-sighted thinking that enabled Zimbabwean farmers to come on board.
Kwara's flagship agricultural project is the 'Commercial Agriculture Initiative' in Shonga District where more than a dozen African farmers displaced from Zimbabwe, all highly-skilled and experienced in mechanised agriculture, were invited to embark on commercial farming. They are engaged in wide range of crop and livestock systems but it is cassava that has made one of the surest starts with rapid early gains to capture the imagination of observers inside Nigeria and outside in the world at large.
Zimbabwe's loss is Nigeria's Gain
Bringing White Zimbabwean farmers to Nigeria was the brainchild of State Governor Bukola Saraki. His far-sighted and ambitious initiative was clearly controversial at the time, but has subsequently proved highly successful and ground-breaking as a template for the rest of Nigeria. The initiative has its roots in a 2004 pilot scheme called 'Back to the Land' and part of a federal government initiative to kick-start agriculture. Land was cleared and key inputs including fertilizers and pesticides were provided to local Nigerian farmers, all at state expense, to haul them out of subsistence and small-scale production and into commercial farming.
Despite the subsidised resources and inputs the scheme failed from a dearth of technical expertise and a lack of real stakeholder incentive. Governor Saraki realised that without dramatic increases in technical capability and capacity, and moves to ensure the farmers had as much at stake as the financiers, impact and change were nigh on impossible.
So what about the project and the farmers who travelled thousands of miles from one end of Africa to the other to make it successful? Five years on Shonga Farms now operates a range of arable crop, poultry and dairy enterprises but cassava is the crop that has captured the imagination locally, nationally and internationally by sheer acceleration in yield and production. Mechanisation both on and off the land in production and processing is delivering one of Africa's classic subsistence crops into a high volume energy crop set to satisfy demands of food, feed and industrial products including bioethanol.
Five years on Graham Hatty one of the 13 White Zimbabwean farmers who set up in Shonga in 2005 is already selling more than 60 tonnes of fresh cassava root tubers per day to Nigerian Starch Mills which is building a processing factory in Kwara
Judy Hatty arrived with her husband Graham, traumatised by the loss of their home and a reluctant pioneer since both were in their 60s. "Nigeria is a high risk - I said I'm too old for this, but my husband said high risk, high gain. I say it is worth it now, but if you had asked me earlier I would have said no," she told the BBC.
Garden of Eden

Graham Hatty employed 600 people in Zimbabwe growing wheat but is still on the learning curve for cassava and a complete sea-change from wheat.
"This is the Garden of Eden for us, everything grows here. It has been exciting coming here," he said. "I am doing what I love to do, which is to feed people, it is what I have done all my life. "It is quite ironic, I am here in Nigeria and I am told I am one of the biggest individual cassava grower in the country with around 600 hectares of cassava in the ground."
"To me this is the way for Africa. We have got to have commercial farmers to produce food," he told the BBC. Around 90 per cent the cassava is sent to Nigerian Starch Mills, who collect the fresh tubers on the farm. The rest of the tubers go to local consumers. Graham is innovating all the time and is now developing a cassava forage harvester with local engineers. Having purchased a regular forage harvester he needs to adapt the machine so that it can cope with the huge stem and leaf mass that has to be separated from the harvested root tubers.
Cassava markets
It's all very well investing what appears to be infinitely large cassava crop but is there a market beyond Shonga and Kwara State.
"There certainly is" says Graham Hatty taking to Trade Investment Africa. "Cassava has an abundance of starch from which no less than 400 products can be made and there is glucose syrup which is a basic resource for 60 products, and not forgetting cassava flour. The guy from the starch factory we are dealing with says the orders he gets are four times more than what he can produce" said Graham "and someone involved with glucose syrup production told us that even if they process 2000 tonnes of tubers a day, they will still battle to meet the domestic market. There is a factory in Lagos that wants cassava chips but it is too far away. You need the factory close by. The glucose syrup guy said that he will set-up a factory in our area if we can guarantee that we will grow enough cassava. And we can."
"There are a lot of small scale Nigerian farmers around us. I've got thirty hectares of new cassava varieties from IITA in Ibadan which are currently being tested. Once we have established the optimum ones for our area they will be given to the local guys, so that everyone will be growing the right variety. "Whoever is interested in investing in our area must come and see us. We will show them the right people to deal with so that their project has government backing", Graham told Trade Investment Africa.
Huge demand

His wife Judy is equally enthusiastic about cassava. "We have discovered that most of the bread in Nigeria has got cassava flour in it. They need about 1000 tonnes of cassava flour a day and you need 4000 tonnes of cassava a day to produce that. No matter how much we plant it seems as if there will always be a demand for cassava. We have had a lot of interest from people wanting to set-up processing factories including a starch mill about 600 km from us". As always lack of transport is a perennial problem in Nigeria so perhaps bringing the cassava mill to the established and reliable cassava production sites like Shonga is the most sensible way forward.
European buyers have already approached Shonga Farms to buy cassava chips for production of ethanol, but according to Graham transport and poor roads is a perennial problem and reliable transporters are urgently required before any business like this can really take off. Shonga has already found itself in the sad and costly position of having a cassava crop and a buyer ready to purchase at a good price but with no transport available to get it off farm. Fortunately cassava can stay in the ground for up to two or three years and doesn't have to be dug up at a certain time so time is still on their side.
Role models for self sufficiency
Farmers like Graham Hatty are clearly benefitting Nigeria but is Zimbabwe, where white Zimbabwean commercial farmers used to own 70 per cent of the fertile agricultural land, feeling the loss. Ninety per cent of the land in Zimbabwe is now in the hands of black Zimbabwean farmers, but many lack commercial farming experience and are without adequate inputs. "This has not been a land reform program at all, this has been a political program," John Worsley-Worswick of Justice for Agriculture a Zimbabwean campaign group speaking in Harare told Reuters. "It has seen a decline in agricultural production down to levels of 15-20 per cent of what was there before. We are looking at the worst farming year ever this coming year (2010), there is less arable land that is being prepared, less inputs available. Regardless of what sort of season we have, right from the onset it is destined to be a disaster," he said.
Back in Nigeria the one million residents of Shonga District were initially apprehensive when the Zimbabwean farmers arrived but that appears to have changed. "We now have electricity, our health is improving because we have a new clinic and water, some of our sons and wives have found work on the farms" said 65-year-old Zubairu Abubakar, an elder of Chattaburo, one of 33 villages within the Shonga farms.
Role models
Governor Saraki's plan is for the commercial farmers to become role models by transferring their skills to local Nigerian employees. "We want young Nigerians to be attracted into agriculture," he said adding how the experiment has surpassed all his expectations for regional economic development in places such as Shonga. "Now more than 3000 people have been employed. "Let me give you an idea, the amount of money that goes out on salaries, wages and other inputs is actually competing with local government funds for that area", he said.
Local government officials claim this new large-scale approach to farming in Zwara has increased local food supply, brought new skills to local farmers and triggered the emergence of new agricultural industries. Professor Mohammed Gana Yisa, Kwara state's commissioner of agriculture, said 15 new commercial farms had been developed in addition to the 13 at Shonga and that 3000-4000 people had found work in the Shonga farms alone. Nigeria's government has invested in a multi-million dollar cargo terminal which it says will be the continent's largest. "We are focusing on the Shonga farms. They are producing large, so we are positioning ourselves to move large quantities of farm produce to anywhere in the world," said Razak Atunwa state commissioner for works and transport told Reuters.
Developments
Recent developments at Shonga farms include first-stage completion of a N2.9bn irrigation project. The state government underwrote the project but the federal government has promised to underwrite N800 million of the cost. Farmers at Shonga say cassava yields will double once infrastructure and equipment is in place and irrigating.
With 3000 to 4000 people employed at each Shonga farm during the harvest season the positive impact of this commercial farming centre in terms of local employment is clear to see. And as the surrounding transport infrastructure continues to improve and the cold-storage facility at llorin airport is completed there is potential for agricultural produce from Shonga to be exported worldwide.
Local observers say the 'New Nigerian Farmers' project has been the catalyst in a quiet but steady agrarian revolution in Kwara State. And with continued support from federal government and wider political support from other states, it has every chance of being the catalyst in a nationwide agrarian revolution. This new venture in Zwara could be the spark that set alight Nigerian agriculture and eventually eradicated the three billion dollars of food imported annually to sustain 150mn people as Nigeria becomes self-sufficient in food production
"Zimbabwe's loss is Nigeria's gain" Governor Saraki told the BBC during an interview in 2009. "I thought if Zimbabwe doesn't want them maybe they'll come here," he explained. "What's good for Africa should stay in Africa and these people are at least second and third generation farmers who see Africa as their home. They've got skills and they've brought development to this area of Zwara State and Nigeria."
Setting up shop in Shonga
Political turmoil in Zimbabwe starting in 2001 had left large numbers of white farmers languishing without their farms and livelihoods. Governor Saraki saw these men and women as African farmers with generations of commercial farming experience in Africa, but with their skills now lying as fallow as their land.
He immediately sent a delegation to the Zimbabwe Commercial Farmers' Union in Harare and enquired as to the appetite for a number of the displaced farmers to come to Kwara State with a view to restarting their farming careers and rescuing their livelihoods in Nigeria. More important long-term would be creation of a commercial farming hub in Kwara to provide the basis for agricultural capacity-building, training of local farmers and long-term sustainable development of the indigenous farming community.
After a number of investigative visits 13 Zimbabwean farmers relocated to Nigeria to form Shonga Farm Holding Ltd named after the District in Kwara State where the farms were established. The company was originally formed as a 'Special Purpose Vehicle' to facilitate the public-private partnership in respect of the commercial farming project of the Kwara State Government with five major banks eventually agreeing to fund the project through debt and equity financing options. The farmers were awarded 25-year leases over 1000 hectares each and after long financial negotiations secured $20mn in new loans and investment from the consortium of Nigerian banks. Shonga Farm Holdings Ltd became an independent entity with limited state ownership.