The recent opening of the Sahara Forest Project (SFP) launch station outside Aqaba, the Jordan port city, has highlighted the possibility of using some of the world's harshest landscapes to produce food, fresh water and clean energy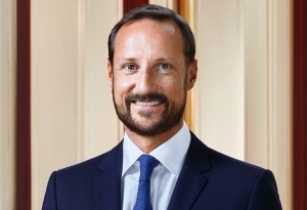 Haakon said that this project has great potential for future agricultural practices in the world's harshest landscapes. (Image source: The Royal House of Norway)
In the first stage, the SFP aims to produce up to 130 tonnes of organic vegetables per year from seven acres of previously-deemed unusable land. The full scale of the project is set to reach 490 acres in the coming years.
Haakon, crown prince of Norway, said, "This is a project that has great promise for the future. It is impressive to see how technology can be used in such a sustainable way to produce agricultural goods in a quite tough climate like here."
Environmental engineering firm Max Fordham have been collaborating with the Sahara Forest Project since the start of the project in 2008. Initially, they carried out research into technical aspects of the project including thermodynamic analysis of the greenhouse, desalination techniques and the potential climatic effects of adding moisture to desert air.
The second stage of the collaboration was focused on the engineering design of the Sahara Forest Project system, firstly for the Pilot Project in Qatar, which opened in 2012 and operated for a year. Max Fordham designed the pioneering saltwater cooling system for the greenhouse, as well as the services infrastructure which joins up and enables the different energy and growing technologies which comprise the SFP system.
Max Fordham collaborated with leading experts on solar power, greenhouse operation and desalination to ensure all the components of the SFP system work optimally, aiming to allow the system to be greater than the sum of its parts.
Tom Bentham, senior partner at Max Fordham, said, "We've collaborated with experts across many countries and disciplines to bring this incredible project to fruition. The salt water and desert environments are both testing on their own, when put together they create one of the harshest environments there is for engineering components."