Tanzania-based Agripro Tanzania Limited has announced it will create a training programme on better farming methods to farmers in five Tanzanian regions starting in October 2013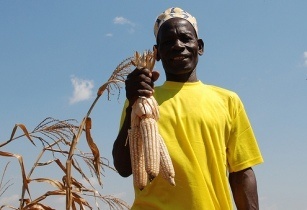 Agripro Tanzania will roll out a training programme in Tanzania which aims to increase farming productivity. (Image source: CIMMYT)
The new scheme aims to increase production in coffee, cashew nuts and fruits, the company's marketing director Patrick Mwalunenge said while addressing journalists at a press conference in Dar es Salaam.
"Diseases and pests affecting crops can reduce yields by more than 50 per cent, so it is wise for farmers to be trained on how to tame them," Mwalunenge said.
"After educating the farmers and selling them our products, cashew nut production in Mtwara and Lindi increased from between 60,000 and 80,000 tonnes in previous years to more than 150,000 tonnes during 2011-2012."
"Unlike other companies dealing in farm inputs, we make sure that farmers are educated before they use our products," Mwalunenge added.
The company reported that it made the same investment during the year 2011-2012 by providing assistance to coffee and cashew nut farmers in Kigoma, Mtwara and Lindi regions.
Agripro Tanzania has to date sold 316,000 litres of pesticides in Mtwara and Linda regions, it reported.