Urban horticulture supplies fresh food, creates jobs, recycles waste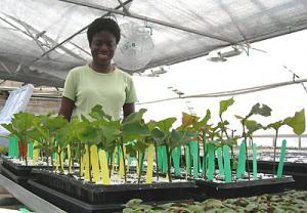 Urban horticulture supplies fresh food, creates jobs, recycles waste
By 2025, more than half the developing world's population - an estimated 3.5bn people - will be urban. For policy makers and urban planners in poor countries, greener cities could be the key to ensuring safe, nutritious food, sustainable livelihoods and healthier communities.
The concept of "green cities" is usually associated with urban planning in the more developed world. But it has a special application, and significantly different social and economic dimensions, in low-income developing countries.
As cities grow, valuable agricultural land is lost to housing, industry and infrastructure, and production of fresh food is pushed further into rural areas. The cost of transport, packing and refrigeration, the poor state of rural roads, and heavy losses in transit add to the scarcity and cost of fruit and vegetables in urban markets.
New population boom
"Historically, cities have been places of opportunity, employment and improved living standards," says Shivaji Pandey, Director of FAO's Plant Production and Protection Division. "But in many developing countries, rapid urban growth is being driven not by economic opportunity but by high birth rates and a mass influx of rural people seeking to escape hunger, poverty and insecurity."
By 2020, the proportion of the urban population living in poverty could reach 45 per cent, or 1.4bn people. By then, 85 per cent of poor people in Latin America, and almost half of those in Africa and Asia, will be concentrated in towns and cities.
That prospect has been described as the new population bomb and a nightmare for governance: sprawling, degraded and impoverished cities with large, vulnerable populations that are socially excluded, young and unemployed.
Reinventing the village green
The challenge is to steer urbanization from its current, unsustainable path, towards greener cities that offer their inhabitants choice, opportunity and hope. One solution is urban and peri-urban horticulture, according to FAO.
Growing crops in and around cities and towns is nothing new. The Incas' citadel of Machu Picchu in Peru included a residential area and a zone of intensively farmed terraces.
FAO estimates that 130mn urban residents in Africa and 230mn in Latin America engage in agriculture, mainly horticulture, to provide food for their families or to earn income from sales.
"Urban horticulture offers a pathway out of poverty," says Dr Pandey, citing its low start-up costs, short production cycles and high yields per unit of time, land and water.
Urban meals, often high in low-cost fats and sugars, are responsible for rising levels of obesity, overweight and diet-related chronic diseases, such as diabetes.
Growing fruit and vegetables, the richest natural sources of micronutrients, in and around cities increases the supply of fresh, nutritious produce and improves the urban poor's economic access to food.
Supporting city gardeners
Governments in 20 countries have sought FAO's assistance over the past decade in removing barriers and providing incentives, inputs and training to low-income "city gardeners". FAO has also provided tools, seeds and training to establish thousands of school gardens, a proven means of promoting child nutrition, in more than 30 countries.
From the burgeoning metropolises of West and Central Africa to the low-income barrios of Managua, Caracas and Bogotá, FAO has helped governments promote irrigated commercial market gardening on urban peripheries, simple hydroponic micro-gardens in slum areas, and green rooftops in densely populated city centres.
In the Democratic Republic of the Congo, FAO advised on measures that regularized titles to 1,600 ha of garden areas operated by some 20,000 full-time growers in five cities. The project introduced improved vegetable varieties and installed or upgraded 40 irrigation structures, which extended water availability throughout the year.
To ensure the quality and safety of produce, 450 growers' associations were trained in good agricultural practices, including the use of organic fertilizer and bio-pesticides. Market gardens in the capital, Kinshasa, now produce an estimated 75,000 to 85,000 tonnes of vegetables a year, or 65 per cent of the city's supply.