The third edition of Poultry Africa, the most complete trade show in sub-Saharan Africa is all set to kick off in Kigali, Rwanda this year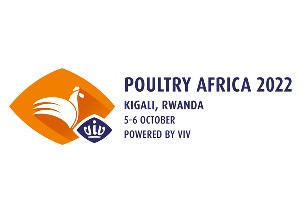 Poultry Africa, the most complete trade show in Sub-Saharan Africa is all set to kick off on 5 October in Rwanda. (Image Source: Poultry Africa)
The event, powered by VIV worldwide is scheduled to take place from 5-6 October 2022 and expects to welcome around 2,000 visitors from various regions – Rwanda, Nigeria, Uganda, Kenya, Ghana, Ethiopia, South Africa, and Sudan, to name a few.
Poultry Africa began in 2017 as a biennial B2B international trade show, bringing the Feed to Food concept to the poultry industries in sub-Saharan Africa. This year, Poultry Africa presents international and regional exhibitors of the poultry broiler and layer production sectors, including feed, feed ingredients and additives, compound feed milling equipment, animal health and pharmaceuticals, breeding and hatching, genetics, farm management systems, farm production, slaughtering, processing and handling.
Over 120 companies from more than 20 countries will be exhibiting at the event. Some of the brands presenting in this edition include Adisseo, Abusol, Aviagen, BAADER Food System, Big Dutchman, CEVA, Chore-Time, DANISCO, Evonik Africa, Güres, Hubbard, Jamesway, Lipidos Toledo (LIPTOSA), Petersime, Plasson, SKA Poultry Equipment, Yemtar, and many more. The enriched conference programme will cover several sectors within the poultry production chain, giving special focus to topics such as biosecurity in farming, water management, food security and animal health. Attendees will have the opportunity to meet exhibitors at their booths and join their Technical Best Practice seminars, which will give them a chance to interact with the suppliers and shine a light on specific technical issues, increase management skills and run the operations more profitably.
Moreover, a strong line-up of international experts will be present at the Poultry Africa Leadership conference which will be taking place on 4 October, one day prior to Expo opening. This conference will host high-level industry experts from companies such as Rabobank, WPSA, Traide, Vetworks and NABC. The programme will address key topics for successful poultry production, including market outlook, trade and marketing, eggs, farm management, Dutch solutions, data management and feed management.
The event also benefits from very good accessibility and visa on arrival, making it easy for all attendees to enter Rwanda, a country that is famous for its high level of safety and security in the region. In addition to this, African visitors flying within the continent can utilise the special offer of RwandAir for Poultry Africa participants.
To know more about the event, including travel and stay options, visit: www.poultryafricaevent.com/visit/travel-and-stay
Professional visitors can gain free access to the Expo upon registration available on: www.poultryafricaevent.com.