Nestlé and Global Good have announced the Clinton Global Initiative Commitments to Action, as part of a two-year partnership to improve the productivity of smallholder dairy farmers in East Africa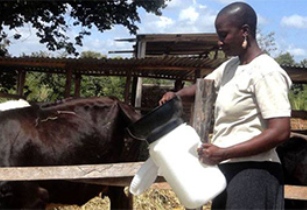 Mazzi's detachable black funnel helps to identify signs of a cow's mastitis (udder infection). (Image source: Nestlé)
A Nestlé official stated that the commitments focus on evaluating and devising ways to increase agricultural productivity of smallholder dairy farmers through technology innovation. It will also focus on expanding the use of a specially designed milk container, known as Mazzi, to maximize the quality and quantity of milk the farmers sell.
Mazzi is a durable food-grade plastic container designed with a wide mouth that enables farmers to milk using both hands, explained the official.
Maurizio Vecchione, senior vice-president of Global Good, said, "Unlike the efficient processing and supply chains common in many developed countries, when these rural farmers collect and transport their cows' milk from the farm to local collection centers or chilling stations, the milk often gets spilled or spoiled."
Vecchione further added that Mazzi has a durable lid, which will prevents spills and allow for easy transportation by hand, bicycle or animal from farm to local collection centers.
According to a statement from Nestlé, the partners will undertake field evaluation work in Uganda or Kenya, which will start from November 2014. The field evaluation work will identify areas where technical innovation can be applied to improve the efficiency, quality, health, nutrition and sustainability of dairy farming.
"It is an important step in deepening Nestlé's dairy work in East Africa to help smallholder farmers increase milk production and their incomes," said Hans Joehr, head of agriculture at Nestlé.