Current livestock farming practices contribute to serious global challenges, including climate change, land degradation, and pollution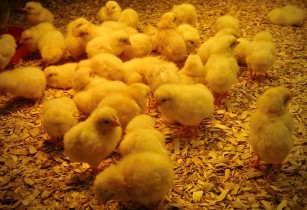 Innovative feed improves the efficiency of the animal's digestion. (Image source: Brian Crawford/Flickr)
Therefore, more sustainable methods are urgently required to meet the increasing demand for meat, fish, milk and eggs.
With the livestock industry under increasing scrutiny for its environmental and social impacts, changing the composition of conventional animal feed can help farmers to trigger production, thus creating significant environmental benefits.
The nutrition or feed requirement of poultry birds depends on various factors such as age, weight, rate of egg production, growth rate and climatic condition. According to the UN Food and Agriculture Organisation (FAO), feed is the most important input for poultry production in terms of cost. The availability of high quality and low-cost poultry feed is critical for producers to remain competitive and to meet increasing animal protein demand.
Impact of innovative animal feed
Evonik partnered with finance and sustainability professionals at KPMG member firms to measure and evaluate the impacts of using sustainable animal feed practices on alarge scale.
The analysis, using the KPMG True Value methodology, compared the societal impacts of using innovative animal feed versus conventional feed. It covered the economic, environmental and social impacts of meat production across the value chain, from the cultivation of crops for animal feed through to animal husbandry.
The Evonik/KPMG True Value approach assigns a financial value for each impact. Once this was established for each impact, the total value of impacts (referred to in the analysis as 'societal value') could be calculated for production using innovative animal feed and conventional feed. The two calculations revealed significant differences between the two types of feed in terms of their social and environmental impacts.
The analysis valued the environmental and social impacts of poultry production in Brazil at US$1483.29 per tonne of live weight (t/lw) when conventional animal feed is used. The most significant impacts are land use to produce crops for animal feed and air pollution from the chickens' waste.
However, when innovative animal feed is used, the negative environmental and social impacts of chicken production are reduced by one third. The biggest reductions are in land use and its effect on biodiversity, air pollution and the potential for soil acidification and pollution of waterways.
"The results of this analysis could change perceptions within the livestock production industry. They could trigger meaningful dialogue across the value chain and help to shift farming towards more sustainable practices", said Dr. Emmanuel Auer, Head of Animal Nutrition, Evonik.
Conventional animal feed is high in protein, which leads to high levels of nitrogen in animal waste. Evonik has developed amino acids for animal feed that help to reduce animals' protein intake. This, in turn, decreases the level of nitrogen excreted. The innovative animal feed also improves the efficiency of the animals' digestion, reducing the amount of food and water consumed and the amount of waste produced. "We see this analysis as a tool to guide decision-making in innovation and product portfolio management to develop new products and services with a positive effect on society," said Dr. Auer.
In conclusion
For optimal growth and good health, poultry business needs to pay attention to balanced nutrients. Water plays a major role in the diet. Maintaining a constant supply and good quality of water is of great significance. Feed additives are gaining importance in providing optimal well-being and comfort in poultry business.