The Eastern African Grain Council (EAGC) has launched a market information system that provides wholesale prices for staple food commodities in Kenya, Tanzania, Uganda and Rwanda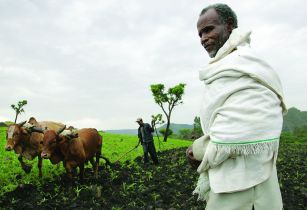 The EAGC have set up a market information system to provide farmers with access to market prices and trends on a daily, weekly and monthly basis. (Image source: Stevie Mann)
The SMS facility, also referred to as the Regional Agricultural Trade Intelligence Network (RATIN), offers a completely scalable web-based platform for communication with farmers, traders, processors and everyone else who has compatible GSM device and is interested in receiving market information.
An interested party sends a text message from a mobile phone, for instance in Kenya to 8000, and receives information on prices on maize per bag in various towns across the country.
For farmers, the text messaging system is more cost effective than making a phone call or using contacts in various towns, providing access to firsthand market information.
"If farmers have information on where to get the best prices for their farm commodities, then they are able to benefit more by selling to the best buyers," observed Samuel Munyasia, a food officer at EAGC, during a recent agribusiness exhibition in Nakuru.
It also helps farmers to pull resources and hire common transport to access distance markets that will offer them better returns.
The system is user friendly and offers an easy way of updating market prices and trends on a daily, weekly and monthly basis.
Subscribers can register on the website to receive alerts on market prices before making a decision on where to sell.
Access to constantly updated information means farmers can bargain collectively with buyers, earn fair compensation and make wiser planting decisions.
But it is not just farmers that are benefiting from fast access to market information.
Maina Wanjeri, a grain dealer in Nyahururu, Central Kenya said, "Clearly, it has now become possible to transact business and make deliveries from a hotel. With information on towns where we can make good profits, we then contact our grain suppliers and send our lorries to collect the grains and deliver to the market."