Case IH has showcased its full line of equipment at one of the largest shows of agricultural machinery in Africa and the Middle East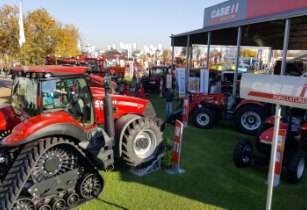 The show celebrated its 50th anniversary this year. (Image source: Case IH)
NAMPO Harvest Day, which was held from 17-20 May in South Africa, this year celebrated its 50th anniversary. The exhibition enables producers and other role players in the industry to experience the latest technology and products in the farming industry.
Case IH's South African distributor, Northmec, showcased the company's full line of agricultural solutions, with an impressive display of tractors (Quadtrac, Magnum Rowtrac, Magnum CVT, Puma CVT, Maxxum, Farmall JX, Farmall JXM, JXT and JXT Compact), combines (new Axial Flow 240 Series) and hay and forage equipment (new Patriot sprayer Series, Ecolo Tiger). On top of this, the new JXT Compact tractors made their first public appearance.
Northmec, with its head office in Isando, is the leading and oldest supplier of agricultural equipment in South Africa. The company supports Case IH customers in the region through its network of 32 distributors, and 16 branches.
Jacques Coetzee, product manager Case IH at Northmec said, "The exhibition was a success with Case IH stand attracting a high number of visitors throughout the week. The Case IH team was there with us to welcome customers from across the region and discuss their requirements. We work as a team – farmer, distributor and manufacturer – to help every farmer succeed."
Daniel Bordabossana, marketing manager Middle East and Africa said, "We as Case IH offer the most innovative products and market leading agricultural solutions and services. We take on challenges to make life easier for farmers. NAMPO provides an excellent opportunity for our brand and our distributor Northmec to showcase our full range of products as well as our Advanced Farming Systems (AFS®), which have been at the forefront of precision farming for more than a decade, giving farmers the ability to control the entire crop production cycle."
Northmec took the occasion of the exhibition's 50th anniversary to show the evolution of the Case IH brand that is always improving and getting higher technological upgrades to meet the demands of today's farmers. With more than 160 years in the field, Case IH has a strong global presence in agriculture and farm equipment.
"We exhibited a 1981 Model Case IH 1440 combine harvester, owned by customer Chrislo Nethling (from Bredasdorp), next to a vintage Farmall tractor from 1956, that was supplied by Johnnie Basson (from Bethehem). The previous generation of the combine and tractor show the strong heritage of Case IH", emphasised Jacques Coetzee.
According to Case IH, the new compact models in the JXT Series tractor range made their first public appearance at the NAMPO Harvest Day. The three new tractors - JX35T, JX40T and JX45T - are all below 50 hp and offer reliability, high performance and productivity. Recently launched, the new compact models join the JXT Series that consists of five tractors ranging from 35 hp to 75 hp. The JXT Series is ideally suited for light cultivation, grassland or specialty crops and represent a reliable and economical tractor line providing compact solutions to the farmer.