The Nigerian minister of agriculture has said that his ministry is to enrol more than five million farmers in its Gross Enhancement Support (GES) programme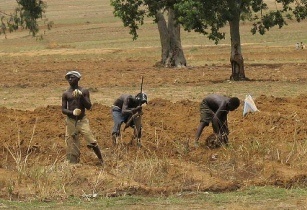 The IAR alongside other institutes has been urged by the Nigerian minister of agriculture to meet the needs of farmers by finding a way that would improve yields and productivity. (Image source: MikeBlyth)
Professor Akinwunmi Adesina made the statement at the opening of the 2013 cropping scheme meeting headed by the Institute for Agricultural Research (IAR) of the Ahmadu Bello University (ABU) in Zaria, Nigeria.
Federal Department of Agricultural Extension director, Dr Damilola Eniaiyeju, said on behalf of Adesina that the main aim for GES was to deliver fertiliser directly to farmers within the country, working towards increasing productivity.
Research institutes, such as IAR were urged by Adesina to meet the needs of Nigerian farmers by finding a way that would improve yields and productivity.
Vice chancellor of ABU, professor Abdullahi Mustapha, said that the attitudes of key players, the right policies and opportunities for investment were all vital in ensuring food security and improving economic growth across the country.
IAR director Professor Ahmed Falaki, stated earlier that the institute has resolved to renew its vision and carefully articulate its research strategies, despite issues related to financing the project.