The department of agriculture, forestry and fisheries (DAFF), South Africa, has released a statement on the status of the oriental fruit fly in the country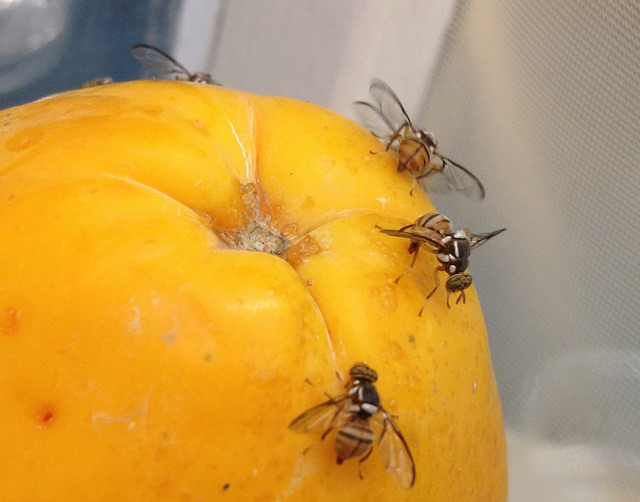 The insects lay eggs on fruits causing them to rot or unsuitable for export. (Image Source: U.S. Department of Agriculture/Flickr)
The oriental fruit fly is currently found in at least 65 countries and in most of Africa's sub-Saharan countries. The fly, which originates from Asia, was later discovered in Kenya and then spread to South Africa's Limpopo, Mpumalanga and other regions. The insects lay eggs on fruits causing them to rot or unsuitable for export. This, coupled with their fast reproduction rate, has led to a serious infestation problem, causing substantial loss to farmers.
The DAFF statement lists the crops affected by the fly as mango, guava, citrus, avocado, banana, coffee, papaya, passion fruit, pear, apricot, peach, cherry, apple, pepper and tomato. The long-term effects of this pest are described to include food insecurity, yield reduction, job losses, market restrictions and high production and post- harvest costs.
The statement provides a detailed list of the spread of the pest in different districts of the country, the status of the spread and the action taken. Control measures advocated include effective orchard sanitation, chemical control and removal of host material from infested areas to non-infested areas. In terms of chemical control, male annihilation (MAT) blocks and protein bait stations or protein bait sprays are recommended. Community members are urged to not remove fruit from quarantine areas to non-quarantine areas without a removal permit from DAFF.
International travellers are also advised to avoid illegal importation of agricultural products into South Africa as this may lead to the introduction of new pests and diseases into the region.