The equipment in Deutz-Fahr's new Global Range are built for robustness, durability, and ease-of-use in non-European markets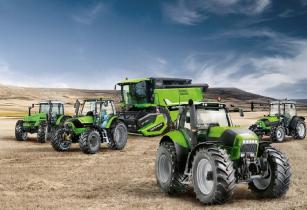 The Deutz-Fahr global range on display. (Image source: Issuu/Deutz-Fahr)
Deutz-Fahr unveiled its Global Range of equipment at the SIMA agricultural show in Paris in March 2017. The range has been designed to deal with terrains and conditions of non-European markets. It unveiled the four ranges and its models at the internationally renowned show.
DEUTZ-FAHR C5305
Specially designed for non-European markets, the C5000 is a range of machines which feature a compact layout, guaranteeing optimum performance in terms of harvesting capacity and grain cleaning, while offering very low operating costs.
The DEUTZ-FAHR C5000 range is equipped with reliable Deutz TCD L6 six-cylinder engines, featuring common rail electronically controlled direct injection, delivering a power output of 160 hp (on the C5205 model) and 180 hp (on the C5305 model); the transmission is controlled by a manual three-speed gearbox, mated with hydrostatic power steering.
DEUTZ-FAHR 3042 E
These machines are powered by the Simpson three-cylinder naturally aspirated, direct injection engine. Deutz-Fahr 3E machines are simple, yet incredibly comfortable. All models arey affordably priced, delivering a rapid return on investment for even the smallest farms. The 8+2 transmission delivers a top speed of 30 km/h; the open-centre hydraulic system and the 540 rpm PTO ensure compatible connection with all types of equipment. Safety is guaranteed thanks to the wet disc brakes and the mechanically controlled parking brake.
DEUTZ-FAHR 4075 E
Available on two-wheel or four-wheel drive models, the 4E range is characterised by its high efficiency and maneuverability while also offering a modern and comfortable design.
The range includes five models: the first four models – the 4050 E, 4055 E, 4065 E and 4075 E – are equipped with three-cylinder engines from the SDF 1000.3 family, (delivering 50, 62, 72 and 82 hp respectively), while the 4080 E model is equipped with a four-cylinder SDF 1000.4 with an output of 80 hp. All these engines deliver a rapid power output even at low speeds; they also feature electronic controls, enabling the operator to set and recall a specific engine speed and maintain this speed constantly afterwards.
The five-speed gearbox with three ranges features a synchronised mechanical reverse shuttle and an underdrive, boasting 30 forward gears and 15 reverse gears. Its top speed is 40 km/h. The standard power take-off features an independent mechanical control with a dedicated clutch; an eco mode (540 ECO) is available in addition to the standard 540 rpm mode; the ground speed PTO is also available as standard.
DEUTZ-FAHR Agrotrac 115.6 turbo
The Agrotrac 115.6 turbo is equipped with a powerful six-cylinder turbocharged engine from the 1000 series; this engine delivers a maximum power output of 115 hp at 2350 rpm, with a maximum torque of 478 Nm at 1400 rpm. The machine's performance is matched by its five-speed gearbox with three ranges (offering a total of 15 forwards gears and 15 reverse gears), with a maximum speed of 40 km/h.
The fact that the differentials can be fully locked electro-hydraulically makes the Agrotrac 115.6 turbo ideal for tackling the hardest jobs, such as ploughing and heavy cultivation work. The electro-hydraulically controlled PTO features a dedicated multiplate wet clutch; The 540 and 1000 rpm modes make these machines incredibly versatile. The brakes and the hydrostatic steering guarantee a high level of active safety even when transporting challenging loads downhill. The open-centre hydraulic system features a dedicated pump which supplies the three rear distributors and the category-2 rear lift at a flow rate of 58 l/min; the maximum capacity of the rear lift is 6200 kg, making it easy to connect very heavy equipment consuming large quantities of hydraulic oil.