Two vaccine projects aimed at increasing food security through the development of new vaccines for cattle, sheep, swine and goats are set to be launched in Kenya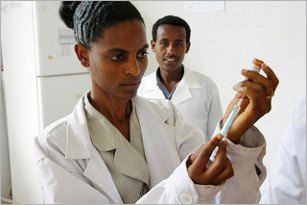 Vaccines to protect livestock against infectious diseases are vital for food security. (Image source: DFID/Flickr)
Targeted at contagious bovine pleuropneumonia (CBPP), the first project is a 30-month initiative led by the University of Saskatchewan's Vaccine and Infections Disease Organisation-International Vaccine Centre (VIDO-InterVac).
The project has been awarded US$3.4 million from the Canadian International Food Security Research Fund, with financial support from the International Development Research Centre and the Canadian International Development Agency.
"This grant will further VIDO-InterVac's long-standing contribution to food safety and security and increase the sustainability and economic competitiveness of the livestock sector," said VIDO-InterVac director Andrew Potter.
The new vaccine is expected to help control CBPP by targeting specific portions of the microbe with minimum side effects. The disease currently affects 24 million people a year and the economic impact costs sub-Saharan Africa an estimated $2 billion a year.
The vaccine project partners include Kenya Agricultural Research Institute (KARI) and the International Livestock Research Institute (ILRI).
KARI director Ephraim Mukisira said, "We look forward to this collaboration in helping control this devastating infectious disease and increase food security in Africa."
Led by University of Alberta professor Lorne Babiuk, and partnering VIDO-InterVac, the second project is a $3.1 million initiative to develop two new vaccines for farm animals.
While the first vaccine would immunise sheep, goats and cattle against five major infections diseases, the second vaccine would target the highly-contagious African swine fever.
VIDO-InterVac associate director of research Volker Gerdts remarked, "These collaborative approaches to vaccine development increase our potential for success and this in turn will have a great impact on improving the economic potential of many farmers."
The Agricultural Research Council, South Africa and the National Centre for Foreign Animal Disease, Winnipeg have also been involved in the vaccine project.