The World Initiative for Soy in Human Health (WISHH) and the Ghana National Egg Campaign (GNECS) have launched a national egg promotion 'Eggstra-O' with the theme 'Eggstra-O nutrition for al'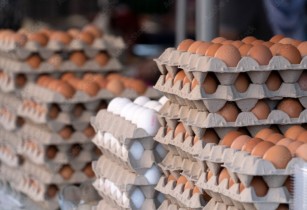 The aim is to encourage the consumption of eggs. (Image source: Adobe Stock)
The campaign aims to educate the Ghanaian population about the nutritive and functional benefits of eggs for persons of all age groups.
The launch saw leaders and members of the Ghana National Eggs Campaign Secretariat (GNECS) and the Women in Poultry Value Chain (WIPVAC), AgriHouse Foundation, Women in Agriculture (AWIA), and African Women in Animal Resource Farming and Agribusiness Network (AWARFA-N) come together to celebrate the contributions of women in agriculture towards development and food security.
The programme manager of Africa Division for American Soy Association (ASA) and World Initiative in Soy for Human Health (WISHH), Theresa Fang, said the campaign seeks to "encourage the consumption of eggs through education to boost Ghana's poultry sector and to increase access to protein-rich foods."
The Eggstra-O campaign will run till the end of December 2022 and will include targeted training for stakeholders in the poultry value chain across the country.
The campaign will also execute public education-focused activities such as a roadshow (dubbed 'The Eggnite Roadshow') and institutional visits in the Greater Accra, Central, Eastern, Volta, Western, Upper East and Upper West regions. Institutional educational outreaches will also be conducted to select schools, hospitals and religious bodies. The goal is to promote egg as a nutrient-dense protein source for every one which will in turn translate into a thriving poultry industry.
The Ghana National Egg Campaign Secretariat was established after the end of the United States Department of Agriculture (USDA) and the American Soy bean Association (ASA) funded project-AMPLIFIES in 2019.
The aim is to expand the trade in eggs, create awareness through myth busting and education on the benefits of eggs and encourage the consumption of eggs.