The Arusha Technical College (ATC) has requested financial support from the African Development Bank (AfDB) and the UK's Department for International Development (DfID) to implement some of its key agricultural projects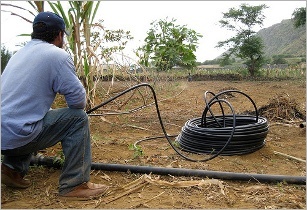 ATC was the only local institute that offered irrigation engineering at the undergraduate level. (Image source: davetrainer/flickr)
The college had acquired 150 acres of land to serve as an irrigation training farm for students. The demonstration farm, however, has not been fully operational due to insufficient funds towards the purchase of laboratory equipment and development of the farm.
"Long term assistance is important and has been requested from all stakeholders," said ATC principal Richard Masika, who was speaking during a visit by the Japan's ambassador to Tanzania, Masaki Okada.
Capacity building support has also been sought from local academic institutions, including the Sokoine University of Agriculture (SUA) and the Selian Agricultural Research Institute (SARI), he added
The Civil and Irrigation Engineering (CIE) degree programme had attracted 143 students Masika stated, before revealing that the government had committed US$1.9 million for the construction of basic structures.
The course was initiated to boost the Tanzanian government's Kilimo Kwanza initiative, which it hopes will help transform the country's agricultural industry by 2015.
Graduates from the CIE programme would be able to plan, design, construct, manage and maintain small to large-scale irrigation engineering projects and their stock, Masika explained. There was no local institution that offers civil and irrigation engineering at the undergraduate level.
Emphasising the role of technical training in development, the Japanese ambassador pledged that his country would give necessary assistance to the institute.
Japan has stationed two experts at ATC to build capacity for the academic staff and conduct irrigation engineering short courses for technicians, farmers, engineers and extension officers.
According to a survey carried out by ATC, Tanzania is short of 263 engineers in civil and irrigation sub-disciplines. The country has said it will need at least 1,659 additional engineers in the next 10 years.