Seed n Sow, a London-based startup, is empowering individuals to attain self-sufficiency with their organic, eco-friendly, non-GMO and pesticide-free vegetable and herb seeds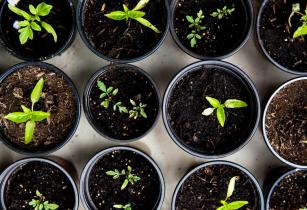 One can grow their own vegetables at home in an effective way. (Image source: Seed n Sow)
Driven by the resolve to promote healthy living and sustainable farming practices, Seed n Sow aims to be a one-stop destination for many requirements, right from seeds and seed kits to potting containers. The company offers a variety of plant starter kits for various needs and seasonal requirements. Growing produce can be difficult if one doesn't have access to healthy seeds or does not know what types of plants will thrive well in a particular climate, said Megan, founder of Seed n Sow.
"We set out to create "all-in-one seed kits" that were affordable, practical, convenient and healthy. We are committed towards providing high quality organic non-GMO vegetable and herb seeds coupled with our innovative plant starter kits; only then we would make gardening easier for everyone. And moreover, everything we sell is eco-friendly," she added.
One can grow their own vegetables at home in an effective way without having to worry about pest control agents or insects eating up the plants. Being all-natural, these products are cost-effective as well; moreover, they are absolutely safe for health and the environment alike.
"We have grown delicious carrots and lettuce with our seeds. I believe in providing our customers everything they need to grow organic food at home. Our all-in-one seed kits, along with our most popular Seed n Sow Signature Seed Kits, are perfect for complete beginners to gardening," she said.
Further realising the need to promote healthy living, Seed n Sow offers the organic herb seeds meant for general healthcare and de-stress purposes. These include basil, chamomile, lavender etc. These seeds can be grown easily as with any other seed kit by following easy step by step instructions available on our website.