Being named as the 2017 World Food Prize Laureate, Akinwumi Adesina, president of the African Development Bank (AfDB), pledged to devote the US$250,000 prize money to support young African farmers and agriculture entrepreneurs in the continent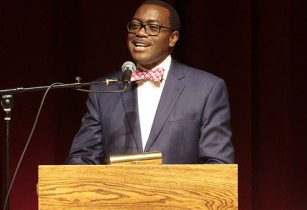 The president of the African Development Bank (AfDB), Akinwumi Adesina. (Image source: AfDB)
"I hereby commit my US$250,000 as a cash prize for the World Food Prize award to set up a fund fully dedicated to providing financing for the youth of Africa in agriculture to feed Africa," Adesina said.
Speaking about the agri-development in Africa, he added, "The day is coming very soon when all its children will be well-fed, when millions of small-holder farmers will be able to send their kids to school."
The award is one of the world's highest recognition for food and agriculture.
While paying tribute to him, Kenneth Quinn, president of the World Food Prize Foundation, said that millions of farmers and those living in rural poverty in Nigeria and throughout Africa have been benefitted from the achievements of Adesina in transforming Africa's agriculture.
Speaking to the press, Michael Pence, vice-president of the US, said, "As our global food system is stretched, and the need to feed more people grows, agricultural transformation will require persistence from leaders like you in driving change and capitalising on public and private-sector expertise."
He further described Adesina's devotion to the cause of fighting global hunger as admirable and deeply needed.
"The United States is and remains committed to food security, and we will continue to work with leaders like you to find innovative ways to end global hunger," he said.
Under the leadership of Adesina, the AfDB is accelerating agricultural development through its Feed Africa Strategy with investment of US$24bn for the next 10 years. The World Food Prize also recognises Adesina's work during the past two decades with the Rockefeller Foundation, at the Alliance for a Green Revolution in Africa (AGRA) and as Nigeria's Minister of Agriculture of Agriculture and Rural Development.