The African Development Bank (AfDB) has issued US$640,000 to Cameroon's Institute of Agricultural Research for Development (IRAD) for the production of seven basic crop seeds to help boost agricultural production and productivity in the country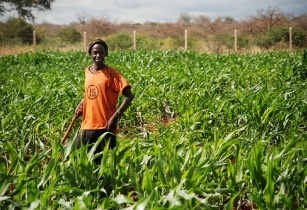 The AfDB is currently working with IRAD to produce basic crop seeds and train staff. (Image source: CIMMYT)
It is hoped the boost to seed production will also lower costs and help poverty-stricken farmers.
At the Institute's headquarters in Nkolbisson, Yaounde, AfDB's executive for Central Africa, Emmanuel Ngoy-th, said preparations were underway for the arrival of the bank's executive directors on 10 March 2013, who will visit to discuss further co-operation with Cameroon and IRAD.
Racine Kane, the bank's resident representative for Cameroon, said IRAD is currently producing basic crop seeds and training staff alongside the AfDB.
The funding, with the backing of one of AfDB's major shareholders, Nigeria, will be used to boost production of seven basic crops with high local demand - maize, cassava, yam, Irish potato, cocoa, oil palm and fingerlings.