African Development Bank (AfDB) is supporting the people of Kenya with small-scale horticulture development project (worth US$27mn), a move that aims to reduce poverty and improve food security in the country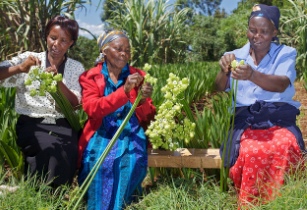 AfDB aims to reduce poverty and improve food security in Kenya. (Image source: USAID Kenya and East Africa/Flickr)
Through this project, about 3,173 ha of land have been irrigated. A total of 100 women's groups have received training and equipment to process agricultural products. Large numbers of farmers have been mobilised, organised and trained in a range of areas including crop production, livestock, marketing and the management of irrigation systems.
Commenting on the horticulture project, Gabriel Negatu, director general of the AfDB's eastern Africa regional hub, said "The project achieved most of its objectives on schedule. Close co-operation with key ministries and other stakeholders enabled rapid and appropriate implementation of the project's components and activities."
With support to farmers in production and marketing of their products and services, more than 100 farmers' groups became engaged in horticultural production and marketing activities. More than 100 women's groups were helped to successfully conduct various food processing activities and nine storage sheds and market sheds were built. In addition, many farmers received training in the production and marketing of horticultural crops. Farmers were also put in contact with different financial institutions in order to access credit facilities and purchase inputs.
Commenting on the positive impact of the project on women's lives in the country, Lucy, a small-scale farmer, said, "The irrigation programme has meant that I could extend my irrigated land to three hectares and I now grow eight different crops - tomatoes, onions, hazelnuts, green beans, maize, cabbages, peppers and chillies - and have two cows and one banana and one mango grove."
Kenya has immense areas of arable land with relatively abundant rainfall and a dense river system. Agriculture accounts for more than 35 per cent of GDP and employs more than 60 per cent of the country's active population. To escape the threat of famine or unemployment, though, large numbers of those living in rural areas move to the cities. The response of the AfDB has helped to improve life for more than two million Kenyans, especially in rural communities.