Food and Agriculture Organisation of the United Nations (FAO) found that Africa's Great Green Wall (GGW) programme in the Sahel region is crucial to the battle against climate change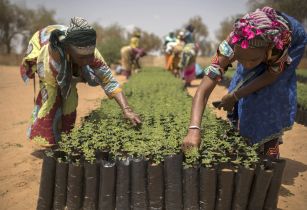 Communities are planting resilient and hardy tree species. (Image source: Food and Agriculture Organization (FAO))
FAO has published the study in Nature Sustainability. It also makes commercial sense for investors. The analysis found that for every US dollar put into the effort to halt land degradation across the African continent from Senegal in the west to Djibouti in the east, investors can expect an average return of US$1.2, with outcomes ranging between US$1.1 and US$4.4.
"We need to change the rhetoric about the Sahel region," to reflect the fact that despite its harsh and dry environment, "investors can get a viable return on their investment in efforts to restore the land", said Moctar Sacande, international projects coordinator at FAO's Forestry Division and one of the study's lead authors.
The analysis uses field and satellite data to track the land degradation over the period 2001-2018 and then compares the costs and benefits of restoring the land based on different scenarios adapted to the local contexts.
The greening and land restoration along this belt stretching 8,000 km across the continent is already underway. Communities are planting resilient and hardy tree species, which helps to fertilise soil for the cultivation of such staples as millet, and for animal fodder. With technical support from FAO, more than 500 communities have seen improved food security and income generation opportunities. The total area the GGW programme encompasses remains limited, with 4 million hectares out of a targeted 100 million, according to the study.
The armed conflicts pervading the region have long made some wary about its potential. And the study finds that about 50% of the land area involved is currently inaccessible for security reasons. But even taking this into account, land restoration interventions still represent a viable business proposition, the authors said.