Agriculture has played a vital role in the growth of civilisations and industry in Africa but in modern times, agriculture is too often seen as a backward sector, particularly where small-scale farmers are involved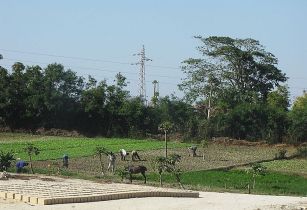 African farms are being transformed by new technology and advanced techniques. (Image source: T.K Naliaka)
Today, agriculture still accounts for nearly 40 per cent of the GDP of African countries, with much of it carried out at a subsistence level. GE views agriculture as a vital sector, and invests in various projects throughout Africa to advance farming technology and improve the livelihood of small-scale farmers. Below are just a few examples of how GE has helped develop technology for the agriculture sector to enhance quality of life in this continent.
An industry thought leader details the importance of utilising Africa's abundant agricultural resources to enhance trade between the US and Africa. 80 per cent of Africans work in the food and agriculture sector, while one in every four people in Africa suffers chronic hunger, and 227mn people in Africa are considered undernourished. A relationship built on mutual benefits can increase food availability and address food.
All over Africa, companies are using new technologies to enhance agriculture operations. In Kenya, solar powered water pumps have been installed; in Benin and Tanzania, by products of farming palm oil and cocoa are being fed into mini-grids to generate electricity; and in Mozambique and Uganda, solar and biogas technologies are powering refrigeration systems.
The Gorge Farm outside Naivasha in Kenya deployed a new pest control mechanism: specially bred bugs to control the spider mite population infesting commercial flower crops. The farm uses GE's Jenbacher gas engines to pump power back into the community's inconsistent electricity grid.
An entrepreneur in rural Nigeria noticed the hardship and poverty facing many local smallholder farmers. Determined to create a solution that increased farming efficiency and revenue, she developed solar powered grain mills, allowing farmers to increase yield and income.
Small-scale renewable energy, like the examples given above, help farmers to improve productivity and add value to raw materials, thereby raising income. With these kinds of solutions, livelihoods can be improved throughout the continent's poorest and most rural areas.