After endorsing the outcomes of the Dakar 2 Summit hosted by the African Development Bank Group (AfDB) on 24 January, African heads of state and government have begun calling for global support for its immediate implementation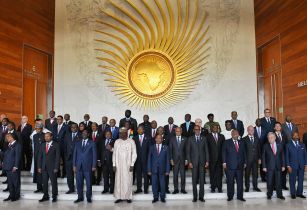 The 36th Ordinary Session of Heads of State and Government of the African Union was held over the weekend in Addis Ababa. (Image source: AfDB)
The Dakar 2 Food Summit has already managed to mobilise more than US$36bn in investment to boost agriculture production across the continent.
In his opening address, African Union Commission Chairperson Moussa Faki Mahamat called for a focus on intra-African solidarity and the rapid implementation of African financial institutions, emphasising that the time for talking was over. He further described it as being the road to salvation.
The summit resulted in the 2023 Dakar Declaration on Food Sovereignty and Resilience, which stresses that the UN Sustainable Development Goal 2 on zero hunger cannot be achieved unless it is achieved in Africa.
The African Union emphasised that the continent was capable of not only producing enough food to feed itself, but also contribute to feeding the rest of the world. It agreed with the position of the AfDB that achieving and sustaining food sovereignty required delivering agricultural technology to farmers at scale, as well as increasing food production. Therefore, it highlighted the importance of increasing investments in food and agricultural systems to achieve and sustain food security.
The leaders also shone a spotlight on the scaling up of highly impactful continental initiatives such as the AfDB's Technologies for African Agricultural Transformation, along with other successful country and partner programmes.