IRRI has hosted and conducted a rice production course for research technicians from different member countries of the Coalition for African Rice Development (CARD) in the Philippines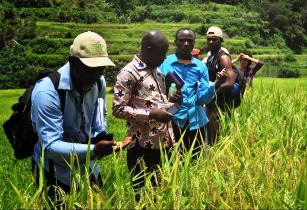 This is the last in a series of training on research and extension for rice workers in Africa managed and hosted by IRRI. (Image source: IRRI)
Fifteen research technicians from Benin, Burkina Faso, Congo, Côte d'Ivoire, Kenya, Guinea, Mali, Tanzania and Togo would apply the knowledge and skills they gain from the training as part of the overall initiative of CARD to increase rice production in Africa.
The three-week course, in collaboration with Japan International Cooperation Agency (JICA), included lectures and field activities facilitated by IRRI scientists. The African researchers were also given an insight on latest technologies in rice farming, importance of innovative plant science practices, and seed-to-market rice farming.
The course on latest rice production technologies was coordinated by Noel Magor, head of IRRI Training.