At a special event at the Food and Agriculture Organization (FAO)'s Regional Office for Africa, millets took centre stage and were celebrated for their potential in addressing climate change, boosting nutrition and increasing farmers' incomes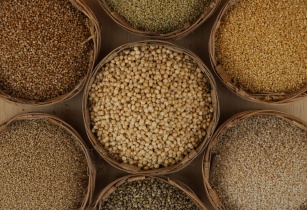 Millets are climate-resilient crops since they can grow on arid lands with minimal inputs and maintenance, are tolerant or resistant to diseases and pests. (Image source: Adobe Stock)
The 'Dine on a Mat' event saw ambassadors, high-commissioners, government ministers, UN and development partners and other high-level guests take part in a dinner of fonio and other millets prepared by chef Fatmata Binta for the International Year of Millets 2023.
Chef Binta is an advocate for fonio – an ancient African super grain – and for supporting women fonio producers. She won the Basque Culinary World Prize in 2022 for her Dine on a Mat concept which brings together her Fulani cultural heritage and her culinary training.
"Millets have a lot of potential for agricultural transformation. If we can increase productivity, and add value along the supply chain through processing it will benefit those who are producing, especially a lot of women," said FAO Assistant Director-General and Regional Representative for Africa Abebe Haile-Gabriel at the event.
"Fonio is very easy to grow, you don't need to plough the land too much, you can harvest within 8 to 12 weeks and it has so many benefits, so it is something we need to add to our diets," said chef Binta, who is collaborating with FAO throughout the International Year of Millets. "Right now we are talking a lot about sourcing loca, connecting with farmers, and I think it's important now to start using ingredients that are underutilized – that's the way forward," she said.