AGCO, a specialist in the design, manufacture and distribution of agricultural machinery and solutions, is conducting agronomic research trials and field demonstrations in 2021 to help farmers successfully add soil carbon sequestration to their farming operations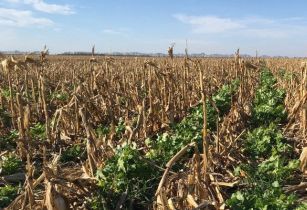 The studies focus on best practices for cover crop planting timing. (Image source: AGCO)
The rapidly evolving carbon credit market is a potential revenue channel for farmers in which they can also contribute to the solution for climate change alongside feeding the world's growing population.
"Carbon sequestration's revenue potential for farmers through carbon credits incentivises adoption, investment, and innovation for the betterment of our climate," said Louisa Parker-Smith, AGCO's global sustainability director. "With half of the earth's vegetated land employed in agriculture and abundant soil carbon sequestration potential, it's understandable that the Ag supply potential is over 30 times today's total credit demand. However, we expect to see carbon-offset credit demand increase exponentially as surrounding markets mature and companies such as Apple and BP work towards self-imposed climate neutrality deadlines."
"We are undertaking this research to help create a clear path for farmers to successfully harness the revenue potential and climate benefits of biologic carbon sequestration through cover cropping and other regenerative agriculture practices," said Darren Goebel, AGCO's Global Agronomy and Farm Solutions Director. "We are confident that these trials will demonstrate easy and cost-effective ways to add these practices into existing crop systems."
AGCO's Global Agronomy team is collaborating with the company's global brands to drive research trials at the Martin Richenhagen Future Farm in Zambia, Africa, and the Swiss Future Farm in Tänikon, Switzerland, as well as several sites in the US and Denmark. The studies focus on best practices for cover crop planting timing (before, during or after harvest), termination methods, species selection and tillage systems to maximise carbon stores.
The research trials are one component of AGCO's new sustainability strategy, which includes a focus area on farm solutions for soil health and carbon capture.
"Our goal is to make regenerative agriculture attainable for farmers," said Parker-Smith. "As part of our new strategy, we're conducting these research trials to inform the development of new products to support soil health and carbon management. We're committed to supporting farmers as part of the solution to the global challenge of climate change."