The executive secretary of the UN Economic Commission for Africa (UNECA), Dr Carlos Lopes, has said that agribusiness has a "fundamental role" to play in the continent's economic development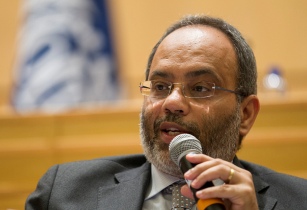 Dr Carlos Lopes says a "mammoth internal effort" is required to increase productivity in the African agribusiness. (Image source: International Labour Organisation/Flickr)
Speaking at an event at the Royal Institute of International Affairs at Chatham House, London, yesterday, Dr Lopes said he "totally agreed" with Nigerian agriculture minister Akinwumi Adesina's recent assertion that the next generation of African millionaires will be farmers.
A growing domestic demand, coupled with the fact that 60 per cent of the world's unused arable land is in Africa, meant a bright future for the continent's farming and food processing industries, he said.
"Africa should focus on its domestic consumption. Africa's rising population growth, growing middle class and rapid urbanisation will continue to increase demand for consumer goods," said Dr Lopes.
"Agribusiness holds the key to meeting this demand, particularly processed food," Dr Lopes continued. "The shift…towards modern integrated agribusiness provides a lucrative opportunity for a large number of smallholder farmers, the majority of which are women, as well as for generating modern jobs for the continent's youth. Africa cannot continue to import yoghurt or toothpaste."
However, the UN under-secretary general urged caution, insisting, "A mammoth internal effort is needed to increase productivity and take advantage of our enormous reservoir of unused arable land."
He also said that taking on a greater role in the processing of African-grown food crops was vital to increasing the potential profits of the food industry in Africa.
Dr Carlos Lopes is an economist from Guinea-Bissau holding the rank of United Nations under-secretary general, and has more than 24 years of senior leadership experience with the UN. He is also a member of several African academic networks, and has been the author or editor of 22 books.