Agritrade, Africa-focused tobacco contractor, is planning to support more than 5,000 farmers in Zimbabwe in the next cropping season, as the output of tobacco is estimated to surpass the targeted 200mn kilogrammes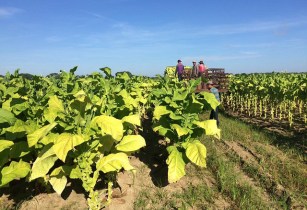 Tobacco farming is getting popular in Zimbabwe. (Image source: UGA College of Agricultural & Environmental Scienc/Flickr)
Speaking to The Herald, Cephas Rukweza, managing director of Agritrade, explained that because of the success of the 2017/18 farming scheme, the company aims to extend financial support to the smallholder tobacco farmers in the country.
Agritrade focuses on contracting 5,000 ha, investing more than US$3.6mn in the 2018/2019 cropping season, up from US$2.6mn last year, Rukweza said to the source.
Apart from this, Agritrade also seeks to increase the quality of tobacco to export to the international markets. To achieve this target, the company is also getting support from the farmers who are repaying loans well, reported the source.
Founded in 2015, Agritrade currently operates across all regions, with a particular focus on Mashonaland West and Mashonaland Central tobacco, Mashonaland East and Manicaland provinces.
The company has opened a Rusape floor to cater for Mashonaland East and Manicaland tobacco, according to the source.
With about 10,000 smallholder tobacco farmers, Agritrade sold 3.4mn kg for about US$7.9mn, according to Tobacco Industry and Marketing Board recent statistics.