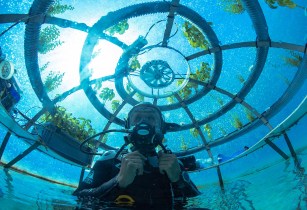 Nemo's Garden, a startup focused on sustainable underwater cultivation of crops, has come up with an underwater greenhouse
---
Resembling a bloom of giant jellyfish anchored to the ocean floor, these large clear domes, or biospheres, are a unique new type of underwater greenhouse. These biospheres harness the positive environmental factors of the ocean – temperature stability, evaporative fresh-water generation, CO2 absorption, and natural protection from pests – to create an environment ideal for growing all manner of produce.
The project was especially dedicated to those areas where environmental conditions, economical or morphologic reasons make plants growth extremely difficult.
Siemens Digital Industries Software has announced that Nemo's Garden has deployed Siemens' Xcelerator portfolio of software and services to shorten its innovation cycles and move more rapidly towards industrialisation and scale.
Over the past decade, Sergio Gamberini and the team at Nemo's Garden have been working to prove that cultivating fruit and vegetables under water is possible. They have not only successfully harvested a variety of crops from their prototype biospheres but also discovered that the plants grown in this environment were richer in nutrient content than those grown using traditional methods. The next big obstacle was to turn their prototype into a solution that could be installed globally – but they knew they did not have another 10 years to make this happen, and knew they needed to find a way to employ new technology.
The brainchild behind Nemo's Garden is Gamberini, president of diving equipment manufacturer Ocean Reef, who in 2012 was challenged by a friend to combine his experiencing designing diving equipment with his passion for gardening – but he had no idea that it would turn into a new business with a vision of creating more food for the population.
Nemo's Garden turned to TekSea, a consulting firm focused on applying industry 4.0 technologies to help organisations deliver sustainable solutions. TekSea's Matteo Cavalleroni identified Siemens Software as a technology partner who could help transition the prototype into a viable alternative agriculture solution that could be manufactured and installed anywhere in the world. Nemo's Garden began to implement the Xcelerator portfolio of software and services, and the collaboration expanded from the automation of sensor monitoring to developing a digitalisation strategy centered on a Digital Twin of the biosphere.
Reinventing the biosphere
Data collection is important for any type of engineering project; however, it is especially critical when trying to do something entirely new like growing food under the sea. The Nemo's Garden team had collected a wealth of historical sensor data in previous seasons, which was especially useful for developing the digital twin. Temperature, CO2 / O2 concentration, inclination angles, water levels, and power consumption data was compared with predictions from the initial simulations to validate the digital twin of the Nemo's Garden domes and surrounding ocean.
With a virtual model and test bed available, design iterations started again in earnest without costly physical prototype builds or iterative fine tuning on a sub-sea environment. Rather than rely on a passive growing environment, the conditions within Nemo's Garden could be tuned as the ocean and biomass changed during the season.
This enabled the engineers to answer critical questions – such as: How many plants should be grown in each enclosure? How much sunlight should be let through to the plants? What is the minimum dome thickness and anchor strength required to handle the pressures and forces acting on the structure during both normal and abnormal conditions?
Using 3D design and simulation software, including Siemens' NX and Simcenter software in the virtual environment, the team was able to push the limits on the design and construction of the biospheres and imagine better biospheres. Previously, changes needed to be made incrementally so all involved could accurately measure the impact. But by leveraging the digital twin of the biosphere with a simulation of the Bay of Noli, the team is now able to make much more impactful changes, more quickly. They are modeling elongated domes to fit more plants per enclosure and reducing thickness of the material to reduce weight, which also makes transportation and installation easier. The new biospheres could also be constructed with thin polymer lines, which will further reduce deployment struggles, while also reducing the manpower required.
"When I first saw Siemens' digital twin technology, I was mesmerised. Nemo's Garden is a one-of-a-kind system and we need to adapt to each environment where it is to be installed. If you can model that environment virtually before you start, you can foresee the challenges and address them in the best way," said Luca Gamberini, co-founder, Nemo's Garden. "We have seen benefits in understanding the flow of water around the shapes of our biospheres. We have a greater understanding of the points of stress on the structure around the biospheres. We also understand how the different interactions of the solar radiation, the temperature and all the physical factors, act on the plants. All thanks to the ability of the digital twin to replicate our system," she added.
"Digitalisation isn't only for big companies. In fact, great gains can often be realised in smaller or start-up companies. The work we do with startups can amplify the impact they have on the world, aiding in and speeding up innovation," said Eryn Devola, vice president of Sustainability, Siemens Digital Industries Software.