The American University of Ras Al Khaimah (AURAK) has hosted a signing ceremony to celebrate the new MoU partnership between AURAK and the International Centre for Biosaline Agriculture (ICBA)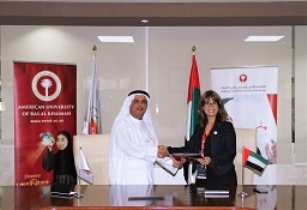 During the signing ceremony. (Image source: AURAK)
AURAK is a public, non-profit, independent, coeducation institution accredited by the UAE Ministry of Higher Education and Scientific Research devoted to delivering an integrated American-style, undergraduate and graduate education strongly focused on the native culture.
ICBA is a non-profit agricultural research center established by the Islamic Development Bank (IDB), the Organisation of the Petroleum Exporting Countries (OPEC) Fund, the Arab Fund for Economic and Social Development (AFESD) and the Government of the UAE devoted to the application of research and development to improve agricultural productivity and sustainability in marginal and saline environments.
Professor Hassan Hamdan Al Alkim, president of AURAK, and Dr Ismahane Elouafi, general director of ICBA, signed a MoU agreement to develop a research-driven partnership concerning renewable energy, water and sustainable agriculture and offer students possible professional internship opportunities.
The Dean of Engineering, Professor Mousa Mohsen stated, "This MoU provides an official platform for collaboration between AURAK and ICBA in joint projects in the areas of water, energy, and environment in addition to providing internship opportunities for AURAK students."
Hassan noted, "AURAK has never been busier with competitions such as the Solar Decathlon. Partnerships with esteemed companies like ICBA will provide our students with knowledge and skill for these competitions, practical experience for classroom theory application, and professional job experience to prepare them for the professional job market upon graduation, all the while teaching our students environmental responsibility."