The International Institute of Tropical Agriculture (IITA) has launched Aflasafe, an all-natural biocontrol product, to combat the dangers posed by afltoxin in Gambia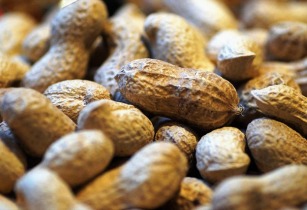 Groundnut is one of the major crops affected by Aflatoxins.(Image source: Iva Balk/Pixabay)
Aflatoxin is poses a big threat to Africa's food, affecting key staples such as maize and groundnuts, which are common foods across sub-Saharan Africa. To combat the dangers posed by Aflatoxin, AflasafeSN01 has been launched in Banjul, Gambia. Aflasafe is an all-natural biocontrol product, developed by the International Institute of Tropical Agriculture (IITA), in collaboration with national and international partners.
"Gambia is amongst the first countries to benefit from Aflasafe registration and commercialisation strategy that will guide local manufacturing and distribution and strategic interventions to enable Aflasafe's uptake," said Matiéyédou Konlambigue, managing director of IITA's Aflasafe Technology Transfer and Commercialisation Project (ATTC). Apart from Gambia, the product is currently registered in three other countries – Senegal, Nigeria and Kenya.
A situational analysis conducted in Gambia by the African Union's Partnership for Aflatoxin Control in Africa (PACA) in 2015 revealed low awareness on aflatoxin and its dangers on human and animal health. The assessment showed that the most significant impact of the toxin is on human health.
Speaking on behalf of the minister of agriculture, Omar A Jallow , the permanent secretary of the ministry, Dr Sait Drammeh, said, "The government is aware of the multidimensional negative impacts of aflatoxin. We are deeply concerned with the findings of this study and are committed to ensure the implementation of the recommendations, and the action plan informed by the PACA country assessment. We note with concern our inability to enhance our foreign exchange earnings from groundnut exports due to aflatoxin contamination," he said.
He added that computations based on international and actual prices from 2008 to 2014 indicate a cumulative economic loss of about US$22.8mn, which translates to a loss of US$1.5mn as an annual average. "Tests conducted in Senegal and Gambia over the past five years and two years, respectively, have resulted in an aflatoxin reduction level of more than 95 per cent, which is very encouraging. This launch comes at a time when Gambia is ready to address the issue of aflatoxin as a whole," he said.