The United Nations International Fund for Agricultural Development (IFAD) announced a US$59.9mn investment to fund the second phase of the Commodity Value Chain Development Support Project (PADFA II), which will ensure the availability of quality climate-resilient seeds and other inputs, modernisation of irrigation infrastructure, minimise post-harvest losses as well empower women and youth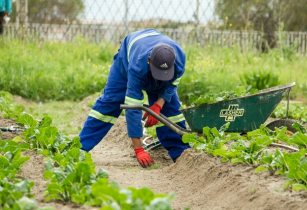 PADFA II will work with 111 farmers' cooperatives to boost the production and productivity of small-scale farmers. (Image source: Anaya Katlego/Unsplash)
Around 32,000 poor rural households will benefit from the new project, which will help small-scale farmers as well as boost rice and onion production in the country. The project's overarching goal is to strengthen rural livelihoods for greater income, improve food security and nutrition, and integrate approaches to mitigate the impact of climate change.
IFAD has financed the project with a loan of US$47mn. US$10.8mn is provided through domestic co-financing, including US$8.7mn from the government of Cameroon and US$2.1mn from the beneficiaries themselves. Additional co-financing of approximately US$2.1mn from other development partners is currently being finalised. The project will reach 15 departments in the country – North, Far North, Northwest and West - an increase from the eleven districts reached through PADFA.
"This new financing agreement comes at the right time, as we face the cascading negative impacts of the COVID-19 pandemic," said Abdelhaq Hanafi, country director for Cameroon. "Small-scale producers are at the centre of IFAD's work and investing in them is a prerequisite for ensuring food security."
PADFA II will work with 111 farmers' cooperatives to boost the production and productivity of small-scale farmers, develop an improved seeds programme for rice and onion, and facilitate access to rural finance and markets where farmers can sell their products.
It will address food loss by building 26 rice warehouses, 28 bioclimatic houses for onion storage and five collection and packaging centres for onions and by rehabilitating 25km of rural roads for access of products to markets. Installation of two rice-parboiling units will add value to rice processing.
Participants in this project will benefit from training on nutrition, food preparation and better hygiene. And young people can look forward to the creation of decent jobs to support the transportation of products and maintenance of infrastructure.
Since 1981, IFAD has invested $201.6mn in 11 rural development programmes and projects in Cameroon worth a total of almost US$421.3 mn. These projects have directly benefited 610,302 rural households.