Case IH has opened its new training academy in Chinhoyi in Zimbabwe, aiming to providing hands-on technical and operational training to help farmers improve productivity through the wider adoption of mechanisation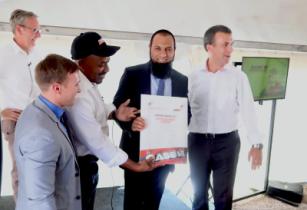 Cae IH opening Zimbabwe training academy. (Image source: Case IH)
The new training academy is expected to support Zimbabwe in improving agricultural productivity to regain food self-sufficiency.
The official opening ceremony, held on 14 September 2017, was attended by more than 100 visitors from Zimbabwe, Botswana, Zambia, South Africa, Kenya, Sudan and Egypt, including farm operators, agricultural equipment dealers and distributors, directors and senior managers of Case IH, said the company.
With 2,000 ha of land, mostly dedicated to maize and wheat, the training academy is owned by local farmers in Mashonaland West Province and leased and operated by BlueSky Farms. Training activities at the farm will be run in partnership between BlueSky, Case IH and Agricon.
Case IH said that in order to enable farmers to gain or strengthen a wide variety of skills, the academy gives access to an array of Case IH agricultural equipment, which includes a JXT 75 utility tractor, high-horsepower Puma 210 multi-purpose tractor, Magnum Rowtrac 380 CVXDrive tractor with continuously variable transmission and tracks in the rear, industry-leading Axial-Flow 7140 rotary combine harvester, Patriot 3230 sprayer and a 24-row Early Riser seed planter.
"This was a great opportunity to gain in-field training with practical operation of machines that I cannot drive back home," said Lana Saeed, a sales engineer with CTC Engineering in Sudan. "Handling the machines in a real working environment and exchanging ideas with participants from all over Africa was very useful," Saeed added.
Matthew Foster, vice-president in charge of agricultural commercial development for Europe, the Middle East and Africa at Case IH, commented, "It's important to help operators get the best from their machines, and this new initiative recognises that. Working with Agricon and BlueSky Farms, we will be able to train Agricon's technicians and commercial team, show customers how to maximise productivity from agricultural equipment, introduce new products to customers and share the latest thinking on efficient agricultural practices."