As part of a Cash for Work programme under the Government of Guinea-Bissau's Emergency Food Security Programme, rice farmers are now being paid to repair the walls surrounding their rice fields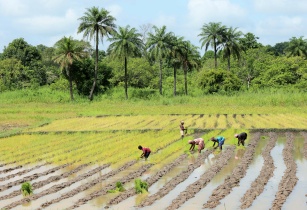 PUSA-GB has supported 3,000 of the most vulnerable farmers through unconditional direct cash transfers of around US$140 per family. (Image source: Adobe Stock)
Funded by the World Bank and implemented by the United Nations Food and Agriculture Organisation (FAO), the Government of Guinea-Bissau's Emergency Food Security Programme (known by the Portuguese acronym PUSA-GB), aims to mitigate some of the impact that COVID-19 has had on the food security of numerous residents in the country.
Reparing the dykes surrounding the perimeter of the rice fields is often a necessity since they tend to erode slowly, especially during monsoon. However, since the COVID-19 pandemic, farmers have not been able to devote sufficient time to make these repairs amidst their struggle to make ends meet. Fortunately, the new Cash for Work programme which has taken effect since January has started paying farmers to repair these walls. This money has greatly helped farmers to feed their families and pay for their children's education, thus allowing them to spend more time working on the dykes.
It is estimated that 72% of the population in Guinea-Bissau currently requires some form of food security support. In addition to the paid employment programme, PUSA-GB has supported 3,000 of the most vulnerable farmers through unconditional direct cash transfers of around US$140 per family to cover the most urgent basic needs. The project also supports farmers across the country in several other ways, including the distribution of 1,278 tonnes of seeds and 25,000 agricultural tools such as buckets, watering cans, hoes and rakes. Moreover, the project also played a role in establishing Farmer Field Schools to promote best practices in agricultural production, with seven focusing on rice and nine on maize.
The Government has also received 655,000 tonnes of fertiliser, 1,000 drainage pipes, and 720,000 doses of animal vaccines. More than 312,000 animals have been vaccinated and treated against potentially deadly diseases under the project. This three-year project, with a budget of US$11.3mn, will conclude in December 2023.