Real IPM, Biobest's subsidiary in Kenya, has announced to be one of three collaborators in a project to improve rice production in Tanzania by developing innovative microbe-based methods to manage rice blast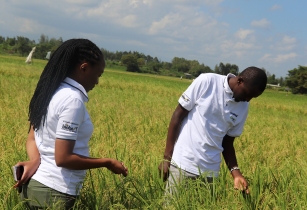 The project aims to combine seed-coating/priming with root dipping in specific beneficial bacteria, complemented with foliar applications of biocontrol agents. (Image source: Biobest)
Funded by the UK's Development Fund for International Development (DFID), it is an Agri-Tech Catalyst project (managed by Innovate UK). The project aims to take innovative ideas to tackle challenges in agriculture.
With US$259218 of funding, this collaborative project sets out to combine seed-coating/priming with root dipping in specific beneficial bacteria (PGPR), complemented with foliar applications of biocontrol agents (BCAs).
Real IPM will be working with the UK's National Institute of Agricultural Botany (NIAB) and CropNuts Kenya – which provides crop nutrition support services to farmers across Africa.
The project aims to optimise the effects of seed coating/priming and root dipping on rice endophytes and induced resistance, as well as the survival and dispersal of BCAs on leaf surfaces under field conditions. Due to start in November 2019, a network of field studies in Tanzania and Kenya will be used to evaluate the effectiveness of the management strategy.
Training courses are planned to promote the principles of integrated pest and disease management. It is envisaged that the adoption of the project results will lead to significant increases in marketable yield without excessive input of fungicides.