Côte d'Ivoire, the world's top cocoa producer, has forward sold about 1.3mn tonnes of its 2015/2016 harvest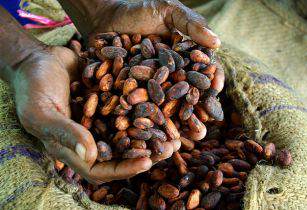 The country may see a record output of 1.7mn tonnes of cocoa this season. (Image source: IreneScott/AusAID/Wikimedia Commons)
The forward sales until 15 July account for approximately three-quarters of the forecast of the total crop of 1.7mn tonnes that has been forecast for the 2015-2016 season, according to sources in the country's finance ministry who added that the sales were moving ahead of schedule.
A reform of the cocoa sector in 2011 saw the government guaranteeing a fixed farmgate price paid to growers at the start of each season, in a bid to generate more revenues for farmers. For the 2015-2016 season, which starts on 1 October, the farmgate cocoa price has been increased to US$1.67 per kg of beans from US$1.42 per kg in the previous season.
As part of the 2011 sector reform, the government had decided to forward sell the bulk of the harvest through a messaging system. Under the system, the country's Coffee and Cocoa Council (CCC) uses a messaging system to pair up international buyers of cocoa with local exporters, in an effort develop the domestic industry. This season, CCC has awarded contracts to local exporters for delivery of 150,000 tonnes of cocoa. A group of local exporters is lobbying the CCC to increase their allotment to 200,000 tonnes.
On the other hand, major international firms are planning to boycott the system, citing the lack of expertise of the local exporters as the reason for staying away from the messaging system this season.
Some of the major international firms present in Côte d'Ivoire's cocoa market include Cargill, Olam, Sucden and Barry Callebaut.
READ MORE...
AfDB approves US$109mn loan for Côte d'Ivoire's cocoa industry