East African farmers have benefitted from agricultural training, with the volume of milk sold by farmers in the East Africa Dairy Development (EADD) project increasing by 102 per cent over three years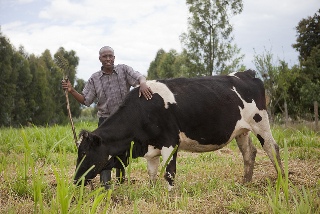 The EADD project set a target to double the earnings of 17,000 dairy farmers in Kenya, Uganda and Rwanda. (Image source: Gates Foundation)
The EADD joined forces with Heifer International, the World Agroforestry Centre (ICRAF) Technoserve, the International Livestock Research Institute (ILRI) and African Breeders Services (ABS) in a bid to increase the incomes of 17,000 dairy farmers, stated project organisers.
According to the EADD, the first stage of the project aimed to double the incomes of 17,000 dairy farmers in Kenya, Uganda and Rwanda.
Volunteer farmer trainers are firstly trained in feed and feeding systems on a two-day course, and they then train fellow farmers in their immediate community. The training involves the growing of livestock feed crops and feed conservation techniques
"In Uganda for example, we have an estimated four million smallholder farmers served by 4,000 technical extension workers," said William Matovu, Heifer's country director.
"So one extension worker is serving a thousand smallholder farmers. The only way we can support the system is by ensuring we have robust communities with farmer trainers," added Matovu.