Post COVID-19, the Edo State government will focus on developing human capital in agriculture, agribusiness, agro-processing and allied fields to groom and harness knowledge and skillsets of its teeming youth population for an agriculture-based economy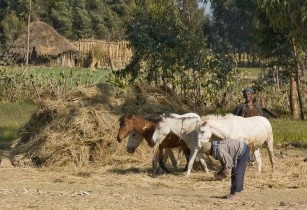 The aim is to boost the total agricultural value chain the region. (Image source: A.Davey/Flickr)
This is said by Godwin Obaseki, governor of Edo State, in the Niger Delta region of Nigeria.
"If the state must move on after the COVID-19 pandemic, we must improve capacity, knowledge and skills of our people. Our focus is on creating an agriculture-based post COVID-19 economy. After the COVID-19 pandemic, we would not have the money to rely on import but rather grow what we need to consume and process our produce for export."
The governor said this during the inspection of ongoing construction work at the state owned Edo State College of Agriculture Government which he promised to transform into a world-class School of Agriculture. This is expected to specialise in extension services, run short and intensive courses and train young men and women to support farmers in various communities.
The Nigerian government has further extended the closure of local and international airports to lighten the spread of COVID-19 infection by another four weeks.
Boss Mustapha, secretary to the Nigerian Government who chairs the Presidential Task Force on COVID-19, said that the decision was reached based on advice from experts.
"We have assessed the situation in the aviation industry and have come to the conclusion that given the facts available to us and based on the advice of experts, the ban on all flights will be extended for an additional four weeks," he said.