The Commonwealth Enterprise and Investment Council (CWEIC), has selected agro input company Elgon Kenya as its strategic partner and appointed its managing director, Bimal Kantaria to its global advisory council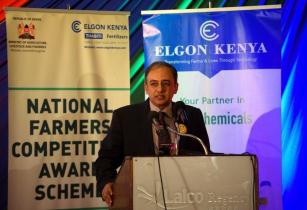 Kantaria oversees more than 600 employees and operations in Kenya, Tanzania, Uganda, Ethiopia and Zambia as the largest agriculture inputs company in East Africa. (Image source: Elgon Kenya)
With more than 100 business and government strategic partners from 31 countries and territories, CWEIC has a mandate to facilitate trade and investment across the 54 member nations of the Commonwealth.
Every two years, the Council hosts the Commonwealth Business Forum alongside the biennial Commonwealth Heads of Government Meeting. Through its networks, at its events, and on international delegations, the organisation's activities aim to create a platform for meaningful engagement between business leaders and government decision makers across the Commonwealth.
At the helm of one of the largest agro input companies in eastern and central Africa, Kantaria oversees more than 600 employees and operations in Kenya, Tanzania, Uganda, Ethiopia and Zambia, as the largest agriculture inputs company in East Africa. He has applied his skills and knowledge extensively towards philanthropic endeavors spanning education, health, social services among others.
In 2020, Kantaria was awarded the Kenya Presidential Order of Service-Uzalendo Award, by President Uhuru Kenyatta, for service to the nation during the COVID-19 pandemic, especially for the Flowers of Hope project, which saved thousands of Kenyan jobs. In the same year, he was also elected chair of the Agriculture Sector Network (ASNET), the umbrella entity of agribusiness organisations and stakeholders seeking to steer the industry into the required transformation to drive Kenya's economic development.
The network has since gone regional, following the establishment of the Agriculture Confederation of East Africa (ACEA), which seeks to negotiate with governments and businesses in the East Africa region to formulate a policy to support a seamless movement of goods across borders to spurr agriculture development with the EAC borders. This effort, despite the EAC Heads of State Summit pledging since 2011 to spearhead a regional approach to agriculture development, has not taken off. However, with ACEA, the dream is close to becoming realised.
"I am honoured to be part of this prestigious network group and I look forward to more interactions and engagement with other members while driving its transformation agenda," Kantaria said. He is also the chair of ACEA and has served as a National Board Director at the Kenya Private Sector Alliance (KEPSA) since 2021, leading on food security and climate change.