The Food and Agriculture Organization (FAO) has sent potato seeds and fertilisers to many households in Lesotho to protect agricultural livelihoods, under the project 'Special Programme for Food Security in Response to the Impacts of COVID 19 in Lesotho'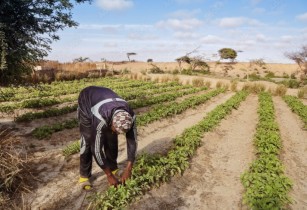 The project is targeting over 56,000 households with different interventions that include homestead garden vegetable production. (Image source: Adobe Stock)
The emergency project aims to ensure that households produce their own food during the COVID-19 pandemic. A total of 1,064 farming households grouped under Potato Lesotho Association across the country are targeted. The project is funded by the Government of Lesotho and the World Bank.
The Lesotho Vulnerability Assessment (August 2021) projected that 179,000 people are projected to be food insecure during the period October 2021 to March 2022 as a result of the COVID-19 impact.
The farmers harvested the potatoes this year and were able to have enough food for their households and sell for incomes. They even saved some potatoes as seeds for the approaching 2021/2022 growing season.
"The seeds we received were of high quality they gave us good yields. We had food and we even gave some to our neighbours who were starving. When we harvested, we had many people coming to buy so much so that we could not satisfy the demand. I want to use the money I got from my potato production to renovate my house, and buy more agricultural inputs," said Marethabile Mokitimi, a farmer.
Most of Lesotho's people engage in subsistence farming, so during the project execution, more potato seeds are being distributed to keep the domestic food supply chain alive and functioning.
The project is targeting over 56,000 households with different interventions that include homestead garden vegetable production for a nutritious balanced diet, micro drip irrigation kits and a plastic tank to allow them to access water; field crop seeds mainly maize, beans and peas for winter and summer cropping.
More farmers will also receive animal health services, especially vaccination against anthrax and rabies and also fodder seeds to support them in producing fodder for livestock and to boost overall livestock productivity.