Prime Minister Hailemariam Dessalegn has laid the cornerstone for Baeker Integrated Agro-Industrial Park yesterday in Humera, town of western Tigray State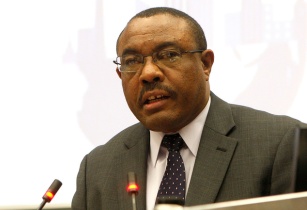 The project was inaugurated by Prime Minister Hailemariam Dessalegn. (Image source: UNIDO/Flickr)
The industrial park, conceived to support the country's economic transformation, will include agro-processing factories to utilise the rich sesame and other agricultural produce cultivated in a 254,000-ha farmland. It is set to export value-added agricultural products to the international market and substituting imported ones.
Speaking at the occasion, Prime Minister Hailemariam said the industrial park would play a role in creating economic integration with neighbouring countries apart from its importance for the national economy. The premier also noted that the industrial park deter illegal migration by creating jobs for the youth.
Hailemariam also stressed such kinds of parks would address the challenges and facilitates the way towards economic transformation.
Speaking on his part State Minister for Industry, Mebrehatu Meles, said the park would house 120 medium industries and employ 779,000 people. When the industrial park is fully operational, it would produce 700,000 tonnes of processed products annually.
The construction of the park worth US$109mn is set to be finalised in three -year time. The first phase of the project is to cover 258-ha of land while the entire project will rest on 1,000- ha.