Access to finance for investments remains a major constraint to taking full benefit of the potential of the agriculture sector for the sustainable socio-economic development of Sierra Leone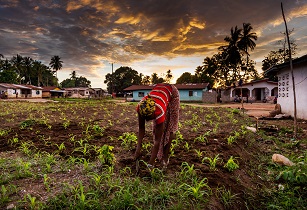 Agriculture constitutes the backbone of Sierra Leone's economy. (Image source: Adobe Stock)
To address this challenge, the European Union (EU) and the United Nation Capital Development Fund (UNCDF) are strengthening their partnership aiming at enhancing access to financial services across agricultural value chains in the country.
As part of the EU funded Jobs and Growth programme, 'Salone Access to Finance' will promote financial inclusion, access to finance and risk management for agri-businesses. As stated by EU Ambassador Manuel Müller, "Agriculture constitutes the backbone of Sierra Leone's economy. It is also a key sector in the partnership between the EU and Sierra Leone to promote food and nutrition security for the population of Salone."
The programme is composed of four mutually reinforcing pillars: investments, insurance, digital and business environment. Its innovative approach combines technical and financial assistance for Micro, Small and Medium Enterprises (MSMEs) in the form of grants with loans obtained from local financial institutions. It will be combined with a digital platform to facilitate service delivery, reporting and credit scoring of MSMEs active in the agricultural sector. The project is expected to support more than 250 MSMEs, leveraging more than 10 million New Leones of private sector investment and generating more than 500 jobs in the agricultural sector over the next 5 years.
"'Salone Access to Finance' will pioneer the implementation of an agriculture insurance scheme targeting low-income rural households that are vulnerable to climate risk and natural disasters," declared Wycliffe Ngwabe, UNCDF country lead in Sierra Leone. These services can be accessed with ease by women and youth through digital means such as mobile phones.