The European Union is set to contribute US$185.8mn towards agriculture, research and rural development in Kenya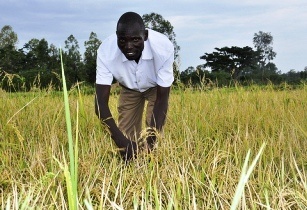 The European Union has committed to support farmers in Kenya. (Image source: CGIAR Climate)
Lodewijk Briet, head of the EU delegation to Kenya, revealed that the EU will strengthen food security in arid and semi-arid areas in the country.
"The EU has a long-term engagement with national research institutions like the Kenya Agricultural Research Institute, Coffee Research Foundation and Kenya Sugar Research Foundation," Briet said.
ICIPE is currently undertaking research on tsetse fly-repellent technology in Shimba Hills, Briet said.
"The tsetse fly project was one of the most successful and important research that we funded. We anticipate for future collaboration with ICIPE so that we can together address the needs of rural poor and vulnerable in Kenya," Briet added.
Kwale county executive officer for agriculture, Johanne Nyamasyo, said that farmers who adopt the new technology for farming activities will receive support.
Briet also noted that assistance will be provided to regional and continental research bodies, including the African Union and International Centre of Insect Physiology and Ecology.