The European Union (EU) has donated motor vehicles and equipment worth US$600,000 to the Zimbabwean government to support four on-going EU funded projects coordinated by the Food and Agriculture (FAO) and jointly implemented by the government of Zimbabwe and its partners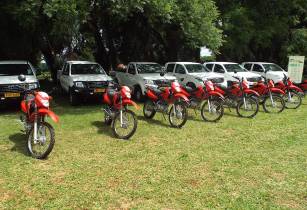 The EU supports food security programmes in Zimbabwe through the donation of motor vehicles and equipment.
Philippe Van Damme, EU ambassador to Zimbabwe revealed that the total budget of the projects for which the new equipment will be used exceeds US$20mn.
The new equipment, which was purchased through four EU-funded and FAO implemented projects, includes cars, motorbikes and surveying and office equipment, stated the EU ambassador.
"The EU is confident about the potential of the agricultural sector and the willingness and capacity of all relevant stakeholders to support the efforts towards turning the agricultural sector into a main driver of economic growth," said Van Damme.
The Smallholder Irrigation Support Project will assist with the rehabilitation of 20 schemes on 1000ha in Manicaland and Matebeleland South of Zimbabwe, while the livestock programme will support 40,000 farmers who practice mixed crop and livestock production in Matebeleland North province.
The EU has also funded the forest forces project implemented in four provinces across Zimbabwe, seeking to improve food security and income of vulnerable rural communities through participatory and sustainable forest management, Van Damme said. Another project being rolled out is the contribution to the implementation of the Food and Nutrition Security policy through the set-up of a centralized Food and Nutrition security information management system.
Wallace Mawire