Female leaders from CAMFED (Campaign for Female Education) will join two important events of the UN Climate Conference COP26 in Glasgow to advocate for global investment in girls' education and women's leadership and for a gender and equity lens to be applied to all solutions to the climate crisis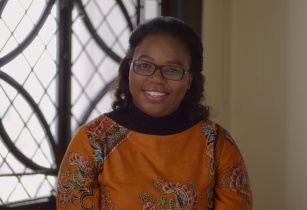 Fiona Mavhinga, Executive Adviser to the CAMFED Association of women leaders said girls' education is not just a right, but also leads to improvements at every level of the society. (Image source: CAMFED)
CAMFED is an African-led movement supporting girls in some of the most disadvantaged regions of Ghana, Malawi, Tanzania, Zambia and Zimbabwe to go to school, thrive, and become independent influential leaders in their communities and beyond, including in climate-smart agriculture. It also received the UN Climate Action Award in 2019.
Having experienced the devastating effects of climate change on their communities in sub-Saharan Africa, CAMFED association members will bring their expertise and evidence of the importance of girls' education and women's leadership for climate adaptation, resilience and mitigation to a global audience and the policy table.
According to Mary Robinson, former Irish president and current high commissioner for human rights at the United Nations, "Climate change is a man-made problem and must have a feminist solution" — a sentiment resonated by feminist writer and activist Gloria Steinem, who recently received the 2021 Princess of Asturias Award along with CAMFED and other prominent individuals and organisations.
Fiona Mavhinga, executive advisor to the CAMFED Association of women leaders said, "We're going to Glasgow to remind the world that the most impactful climate investment is the education of girls. Girls' education is not just a right, but also leads to improvements at every level of the society – from health to economic development to political stability. Evidence shows that leadership by women results in better environmental decision-making. As women once excluded from education, who've now stepped into positions of authority on climate action, we're very excited to quite literally have a seat at the global policy table."
CAMFED's climate-smart Agriculture Guides address the urgent and immediate needs of their communities. Already at the frontline of climate change, they have experienced extreme droughts and floods, as well as increased food insecurity and poverty, which in turn pushes more rural girls out of school and into child marriage.
They demonstrate the multiplier of investing in girls' education and young women's leadership. In Zimbabwe, for example, 320 Agriculture Guides have already trained more than 5,000 young women, and collectively they have reached more than 35,000 members of their communities (most of them women — "forgotten farmers" without access to skills training or resources). They share indigenous and innovative climate smart agricultural methods – including mulching, agroforestry, drip irrigation, and compost-making – and connect forgotten farmers to markets and resources. Together they are nourishing school communities, building climate-smart livelihoods, improving resilience to climate shocks, and have already reached more than 10,000 children with targeted support to stay in school.
Agronomist and climate-smart entrepreneur Forget Shareka, a member of the CAMFED Association said, "Education is key to tackling climate change and the education of a girl child is unique. It changes everything, benefits our societies, the planet, and goes a long way to achieving the Sustainable Development Goals. I was once at the verge of dropping out of school, and that is still a reality today for millions of children in Africa from disadvantaged backgrounds. With the education support I received from CAMFED and the Mastercard Foundation I managed to attend secondary school and get to university. Today, I am using that education to transform my community, contribute to climate adaptation and resilience. Also, I am championing change by contributing to food and nutrition security and environmental sustainability through my company, Chashi Foods."
Forget, Fiona, Esnath, Harriet and 178,000 young women in the CAMFED Association Sisterhood are living proof that, with the right investment and support, today's girls are tomorrow's leaders, and studies show that greater representation of women in leadership results in more equitable policies and better systems.
CAMFED's contribution to a sustainable, feminist future is underpinned by its 5-year strategic plan, which includes educating another 5 million girls, helping 50,000 young women transition into productive and sustainable agricultural enterprises, reaching 750,000 more community members who will benefit from young women's knowledge in sustainable agriculture, and creating 150,000 new jobs, especially in climate-smart enterprises — all by 2025.