Ferm O Feed, a subsidiary of Den Ouden Group from Schijndel, has announced it has set-up a new organic fertilizer production facility in the Netherlands in a bid to increase crop yields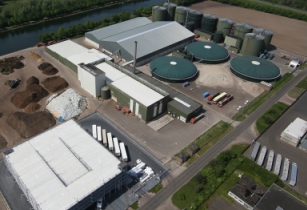 Ferm O Feed has set-up a new production facility in Helmond, the Netherlands. (Image source: Ferm O Feed)
The Helmond-based factory has been constructed to meet the highest standards, producing 70,000 tonnes per year of pelletized organic fertilizers from dried chicken manure. Almost 95 per cent of the production is exported to more than 45 countries across the globe and as capacity has doubled, Ferm O Feed is now interested to expand its markets.
With the factory fully operational, Ferm O Feed´s organic fertilizers can be used by farmers across the world for a wide range of crops, including tomatoes, coffee, tea, cocoa, tobacco and rubber.
Ferm O Feed provides high organic matter to improve the quality of soil, thus increasing crop yields. The main advantages of using organic fertilizers include improvement of soil life, improved structure of the soil and no harmful effects to the environment. It's a cradle to cradle product.
The different types of organic fertilizers produced by Ferm O Feed are Fertiplus® NPK 4-3-3, Fertiplus® NPK 4-2-10, Fertiplus® NPK 4-10-2, Fertiplus® NPK 8-3-3, Fertiplus® COW and Fertiplus® BIO. All these products are also available in crumb.
"Customers ask for fertilizer with high organic matter to improve the quality of soil and fertilizer which also contains a lot of trace elements and humic acids. Our fertilizer is always minimum 88 per cent dry matter. Local producers can't dry its product very well," said Rob den Ouden.
"Farmers buy only very good dried pellets, that's important for the storage of the fertilizer."
Ferm O Feed produces environmentally friendly fertilizers and therefore stays away from chemical fertilizers, which can be harsh to the environment and are known to decrease the quality of the soil causing low rates of organic matter and poor water-holding capacity. The chemicals can seep through the soil meaning the crops will lose their NPK, in contrast to when organic fertilizers are used, the NPK's are retained. The company's organic fertilizers offer a way to overcome this problem as they also contain NPK, composition of nitrogen, phosphorus and potassium that is vital in plant nutrition. Ferm O Feed's products are also used as plant food in fish hatcheries to encourage the growth of algae, which can then be used as fish feed.
The benefits of Ferm O Feed's organic fertilizers have been widely seen through exports mainly to the Middle East, Europe and North Africa including Libya, Tunisia and Morocco but also in the Far East including Cambodia, Taiwan and Vietnam. Rob den Ouden revealed that the firm has plans to manufacture special types of organic fertilizer, targeting a specific crop, for example, olives.
Ferm O Feed's main presence is in the northern part of the African continent, although it has loyal customers elsewhere in the continent, for example in Botswana. The company now aims to extend its reach across Africa, especially to countries where there is easy access to the sea with a good connection to the port in order to lower export costs. When it comes to loading shipping containers, 20ft containers and 40ft containers are mainly used with maximum loads of between 24-26 tonnes.
The firm is currently working towards expanding its business by focusing on distributors who are working in African countries who have experience with importing agricultural inputs and also distributing them to end users.
"Our company policy is to stay in the organic fertilizer market we don't want to expand in mineral or chemical because we have a lot of raw material available in the Netherlands and we want to give this organic material in the form of chicken manure and new life. For this we export this organic fertilizer worldwide and help people increase its crops yields and produce some more food for all the people in the world," said Rob den Ouden proudly.