Maarit Hirvonen, chief technical adviser to the Programme for Agriculture and Livelihoods in Western Communities (PALWECO), spoke of the ways in which PALWECO has worked, and continues to work, towards delivering Finnish support for civil society in Kenya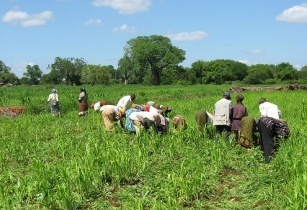 PALWECO aims to deliver reductions in poverty, and improvements in livelihoods, by strengthening agricultural value chains with a holistic approach to the development of local and regional infrastructure. (Image source: thisisexcellent)
This had been achieved by building capacities from the ground up, pressing for positive movement with respect to a number of societal initiatives, supporting progressive programmes to engender to political change.
PALWECO is a bilateral programme financed by the Government of Kenya and Finland, with the Finnish government providing a EUR27mn (US$34.7mn), and with Sh347mn (US$4.1mn) provisioned by the Government of Kenya.
PALWECO is designed to deliver reductions in poverty, and improvements in livelihoods, by strengthening agricultural value chains with a holistic approach to the development of local and regional infrastructure. To help implement its programmes, PALWECO works with Kenya's Ministry of Planning, National Development and Vision 2030, with district and sub-county administrations and departments, with community-based organisations, with non-governmental organisations, and interested individuals at community level.
One may take, from PALWECO's engagement with Kenyan civil society, that Finland's interest in African civil society is to facilitate the institution of working structures at municipal level, with partners, to strengthen local, regional and national identity amongst communities.
Of relevance is the framing and interpretation of the Kenyan constitution. Of relevance is adherence to governance amongst civil society organisations. Within Kenya, Finland supports the work of the Institute for Education in Democracy (IED).
Speaking recently in Kisumu, executive director at the IED Peter Okoth Plling'o spoke of work towards community cohesion and the development of national structures to ensure a stable, secure civil society. Of key concern - for example, in ensuring credible election processes - is the protection of the vulnerable in society, including women.
The Kenyan constitution may serve as a model for many nations to follow. Peter Okoth Plling'o is concerned with interpretation, and hence with potential disconnect from the laudable aims of those who drafted the constitution.