Stakeholders in the cocoa industry from Ghana and Cote d'Ivoire have succeeded in convincing international processors, manufacturers and traders of cocoa beans to accept to pay US$2,600 for a tonne of cocoa beans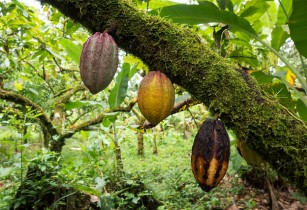 Cocoa produced from both countries accounts for 65 per cent of global production. (Image source: Quintus Ragnvaldr/Flickr)
The two-day meeting, occasioned by Presidents Akufo-Addo and Alassane Ouattara of Ghana and Cote d'Ivoire respectively, accepted to host another meeting on 3 July in Abidjan, to fine-tune modalities for the implementation of the proposed floor price.
The floor price is the minimum price below which a producer will not sell their beans to a trader. The commodity is selling for a little more than US$2,500 per tonne currently on the market.
Joseph Boahen Aidoo, CEO of the Ghana Cocoa Board (COCOBOD), who announced the outcome of the deliberations, said as a result of the proposed floor price, the sale of cocoa beans in Ghana and Cote d'Ivoire, for the 2020/2021 crop season has been suspended.
Cocoa produced from both countries accounts for 65 per cent of global production. Ghana produces about 900,000 tonnes a year while Cote d'Ivoire produces about two million tonnes.
"A proposed floor price of US$2,600 was accepted in principle by all stakeholders. Nonetheless, processors, manufacturers and traders, requested a technical meeting to fine-tune the mechanism for the implementation of the recommended floor price. It was agreed that a technical meeting be held on 3 July 2019, in Abidjan to fine-tune the modalities for the implementation of the floor price."
"It was also agreed that the issues of sustainability related to traceability, involvement of child labour, although important, be de-coupled from the floor price, and be discussed at another forum," he said.
Aidoo revealed that a lot of calculation had gone into the determination of the floor price. According to him, issues such as the tillage, planting, taking care of the plants, weeding, pruning, fertilisation, spraying, the cost of transporting the beans from farms to the house for drying and margin for buyers, among others, had been considered.
The Abidjan Declaration worked out by Ghana and Cote d'Ivoire, among other things, aims to find a sustainable solution for the improvement of prices obtained by cocoa producers in their respective countries.