The Ministry of Food and Agriculture in Ghana has initiated a programme to assess the logistical needs of selected districts in the Ashanti, Bono and Ahafo regions to improve rice production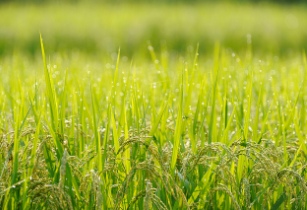 The programme aims to cover about 233,000 ha and expected to produce 600,000 tonnes of rice. (Image source: Bong Grit/Flickr)
Addressing a forum attended by municipal and district chief executives (MMDCE) and agriculture directors, Simon Osei-Mensah, regional minister in Ashanti, said that the project is geared towards increasing food productivity and ensuring food security for the country, thus reducing import bills.
The minister said that the planting for food and jobs (PFJ) policy is to address the declining growth of Ghana's agricultural sector. Over the years, Ghana had spent huge sums of monies on the importation of rice and this had negatively affected the national currency.
He, therefore, urged all MMDCEs to give every support to their Agricultural Development Units to make the special rice program successful.
Collins Ntim, deputy minister for food and agriculture, expressed satisfaction with the yields recorded for the 2018 PFJ season. He noted that the sector exceeded the set target in the 2018 PFJ season and was optimistic that the 2019 season would be a better one.
As part of strategies to create jobs and reduce importation of rice, the Ministry of Food and Agriculture, in collaboration with the Ministry of Local Government and Rural Development, are initiating the special rice programme for 122 selected districts across the country. The programme aims to cover about 233,000 ha and expected to produce 600,000 tonnes of rice.
The Ministry will promote the use of the crop specific fertiliser recommendations under the 2019 campaign to increase crop yield.
"It is expected that farmers, input distributors and all stakeholders will play their roles under the campaign effectively to make sure that the farm inputs government is paying so much for being put to good use for the benefit of Ghanaians and not smuggled out to neighbouring countries," Seth Akoto, director of crop services, commented.